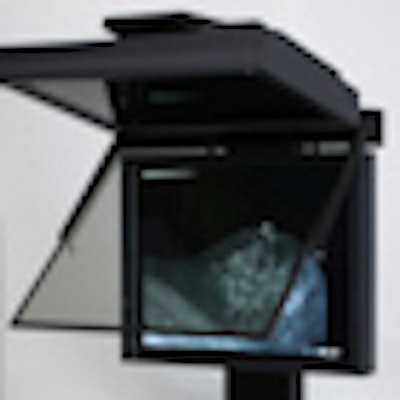 Fujifilm Medical Systems Europe plans to introduce a 3D viewing system for its Amulet mammography system in the autumn. It will be unveiled in October at les Journées Françaises de Radiologie in Paris, according to Joerg Mueller, manager for image applications. The 3D upgrade for the Amulet system, including software enabling 3D measurements, will be commercially available in November at the RSNA meeting in Chicago.
Five university medical centers in Europe are conducting studies to validate the diagnostic capabilities of the new system against conventional 2D mammography. Fuji says its low-dose 3D technique results in faster reading times and a significant reduction in false positives, as well as contributes to efficiencies with the same workflow as traditional full-field digital mammography (FFDM) and storage requirements 10 times lower than a tomosynthesis examination.
The company's approach relies on a special monitor that exploits the human phenomenon of parallax vision for 3D viewing rather than complex image processing. Wearing a pair of specially designed glasses, a radiologist reads through a filter the stereoscopic acquisitions that display an in-depth and intuitive image of the entire breast at a 50-micron resolution. It is the radiologist's "visual system" behind the special glasses that fuses the two images into a single 3D image, according to Sangeeta Gupte, who leads clinical marketing for Fujifilm Medical Systems USA.
The Fuji approach marks a departure from in-depth imaging with tomosynthesis, in which up to 15 consecutive images are taken from different angles across the arc of the breast to generate a 3D-like rendering using the multiple slice acquisitions.
"3D digital mammography has several advantages over the much-promoted tomosynthesis," Mueller said. Radiologists view the breast directly in three dimensions and can see behind overlapping structures, rather than scrolling through individual slices that are displayed in two dimensions, he said.
The Fuji 3D mammography screening exam comprises the two traditional mediolateral oblique and craniocaudal views of each breast, Gupte explained. Each view set is composed from two sequential x-ray images taken under the same compression, one at an angle of 0° and a second at about 4°. The radiologists can toggle between the 2D and 3D modes, and the 0° image matches specifications required for a 2D FFDM exam.
A phantom study evaluating the Fuji system presented in March 2011 to the Society of Photographic Instrumentation Engineers (SPIE) concluded: "There was a significant decrease in reading time for masses, calcifications, and abnormals in 3D compared to 2D, as well as more favorable confidence levels in reading normal cases."
A five-year clinical trial enrolling 1,458 patients at Emory University Hospital in Atlanta found that compared with standard digital mammography the Fuji stereo mammography technology significantly reduced false-positive lesion detections by 46%, and significantly increased true-positive lesion detections by 23% (Lecture Notes in Computer Science, 20 July 2008, Vol. 5116, pp. 74-79).
Reducing false positives results in fewer patient callbacks for supplemental exams and potentially can reduce the number of biopsies ordered, according to Mueller. The Emory University study was led by the developer of the Fuji 3D viewer, David Getty with BBN Technologies of Cambridge, MA, but did not use Fuji's Amulet detector.
According to Mueller, the German studies now under way utilize the Amulet detector with dual layers of amorphous selenium that require 1.2 to 1.3 milligray (mGy), or half the dose used in the Getty study. St. Vinzenz Hospital in Dinslaken, Germany, was the first radiology group to use the Amulet 3D reader. After two days, the radiologists began using the system for routine exams due to the lower dose, Mueller said.
Beyond breast cancer screening, the vendor expects the 3D capability to have value in diagnostic mammography, especially for dense breasts and patients with prior interventions.
"Patients with metal clips, wires, and staples from prior breast interventions cannot have a breast tomosynthesis exam as these metallic artifacts produce severe ghosting," said Gupte, adding that development is under way for potential applications of the 3D mammography system for breast biopsy and surgery.
Fuji's Amulet system is approved for commercialization in Europe and Japan. Sold as AspireHD in the U.S., the system is pending Food and Drug Administration approval, and the 3D capability is limited to investigational use there.