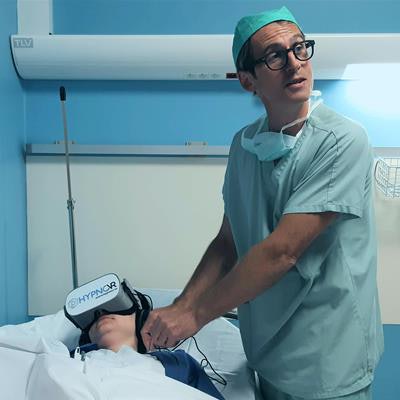 Earlier this month, the French Society of Radiology (SFR) and two other national organizations gave their annual prize in innovative medical imaging to virtual reality (VR) startup HypnoVR. So, what lay behind their decision?
The Strasbourg-based company can offer medical professionals a way of reducing stress and associated medication during interventional radiology techniques. Commercially available for the past 12 months, the program combines VR with hypnosis and is gaining ground across France, Belgium, and Switzerland. It has now been installed in around 100 centers.
Speaking to AuntMinnieEurope.com, HypnoVR's head of communications, Thibault Koehl, pointed to how the medical hypnosis system requires a VR helmet and audio headphones. The company's software can plunge patients into a "calming universe of their own choosing" -- either as a preventative tool against stress before a procedure takes place, or during the procedure itself.
The HynoVR software was conceived by two anesthetists -- Drs. Denis Graff and Chloé Chauvin -- who have 15 years of experience in the operating theater and who are both medical hypnosis experts. It was intended to solve the problem of lengthy hypnosis techniques carried out by trained staff in hospital departments, which could block individual medics for up to an hour and a half per patient.
The benefits of hypnosis on patient well-being and the knock-on reduction in need for medication are significant, according to Koehl. Many different disciplines that perform stress-inducing procedures are among the company's client base, including interventional radiology, gynecology, neurology, oncology, gastroenterology, pediatric surgery, and dental centers.
Practical aspects explained
Access to the software is subscription-based and costs clients 149 euros a month, with yearly subscription and renewal. The VR helmet, such as the Oculus Go, costs around 250 euros, while the headphones cost between 200 and 300 euros. The software works with most of the VR helmets from the Oculus range, as well as the Pico G2 helmet, according to Koehl.
The helmets are adjustable, and although they are labeled as not suitable for children younger than 13 years old by the manufacturer, they have been used with the system in the medical setting on patients as young as 8 years old.
Medical staff settle patients with their headsets and offer them a menu of options to personalize their hypnosis program. Depending on patient needs, the program can run from 10 minutes to continuously, with different voiceover texts tailored to age, the procedure in question, and its length. Patients can choose from four environments for their immersion -- forest, underwater, space, or beach -- and they can also choose whether the voiceover is from a man or woman, the language used (at present, French or English), and the type of music from seven different styles.
"The system is particularly useful as a destresser before lengthy imaging procedures such as MRI," Koehl said. "Just 20 minutes of the HypnoVR program can relax a patient not just for the long period within the MRI scanner, but for the rest of the day."
"Furthermore, starting the program three to four minutes before the beginning of a colonoscopy, for example, and keeping it running for the duration of the procedure, means that doctors can reduce sedation," he said. "The system is ideally suited for any procedures involving stress and pain, as it can reduce both anxiety and medication needed."
Koehl pointed to how, in the future, equipment made from compatible material may mean that such a system could be applied within an MRI scanner during the exam.
He cited its use in pediatric surgery at the Centre Hospitalier Universitaire de Hautepierre in Strasbourg. The system can avoid the need for general anesthesia in some cases, and it means that certain procedures can be performed under local anesthetic, resulting in less recovery room time. Indeed, hospital stay time for patients using the system can be reduced by a third of that required for general anesthesia patients, he said.
In another study, pediatric patients operated on for scoliosis were subjected to HypnoVR therapy for 20 minutes on the morning of the first and second day after surgery. These patients showed a 45% reduction in morphine administered to them for pain and a 50% reduction in antianxiety pills, according to Koehl.