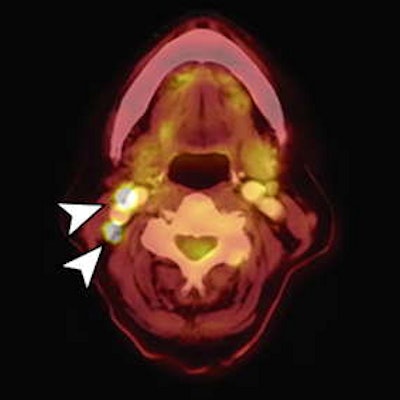 FDG-PET/CT imaging can increase survival rates in patients with newly diagnosed, treatment-naive squamous cell carcinoma (SCC) of the oral cavity, according to a study published online on 21 April in JAMA Network Open.
Researchers found the accuracy of FDG-PET/CT was superior to MRI and CT alone for detecting metastases in patients with SCC of the oral cavity. The finding is important because the early dissection of lymph node metastases leads to an increase in the likelihood of survival in these patients.
"In this cohort of 135 patients with newly diagnosed SCC of the oral cavity, FDG-PET/CT was able to detect the primary tumor in 97.8% of the cases, thereby confirming the high sensitivity of FDG-PET/CT and its superiority to stand-alone CT and MRI," stated the authors, led by Dr. Christian Linz, PhD, of the University Hospital of Würzburg, Germany.
Cancer of the oral cavity and the oropharynx is the sixth most common tumor entity and the ninth most frequent cause of death worldwide. The diagnosis is determined late in up to 50% of patients, however. One of the most important adverse prognostic factors is the presence of cervical lymph node metastasis.
In the current study, researchers wanted to evaluate the diagnostic accuracy of FDG-PET/CT in detecting cervical lymph node metastasis in treatment-naive patients with newly diagnosed SCC of the oral cavity.
Between June 1, 2013, and January 31, 2016, the researchers enrolled 150 patients with clinical suspicion of SCC of the oral mucosa. Whole-body FDG-PET/CT and cervical MRI imaging were performed before further invasive interventions (panendoscopy and/or acquisition of biopsy samples). All patients underwent surgery within two weeks of the imaging workup.
The accuracy of FDG-PET/CT in localizing primary tumor, lymph node, and distant metastases was tested and compared against histopathologic characteristics of tissue samples. Two experienced, board-certified nuclear medicine physicians with access to relevant clinical data independently rated the whole-body and cervical PET/CT imaging results.
Results showed 83.3% sensitivity, 84.8% specificity, and a negative predictive value of 93.3% with use of FDG-PET/CT imaging for detecting cervical lymph node metastases. In addition, in 125 patients of the study cohort, measures were also compared with morphologic imaging via MRI and contrast-enhanced CT. The researchers found FDG-PET/CT's specificity was significantly higher than that observed in cervical MRI and CT.
The results suggest that FDG-PET/CT imaging is superior to MRI and CT and that its clinical preoperative use in assessing cervical lymph node metastases could increase specificity, positive predictive value, and negative predictive value (NPV), according to the authors.
"The high and superior NPV for the respective cervical sides and levels should be considered before surgery to optimize neck dissection, which is important because the dissection of lymph node metastases leads to an increase in the likelihood of survival," they wrote.
The study had limitations, the authors noted. Since all patients underwent elective neck dissection irrespective of imaging findings, for instance, the study did not reveal the actual value of FDG-PET/CT in patients who had received a PET-guided elective neck dissection without removing the contralateral cervical lymph nodes.
Combined FDG-PET/CT is a valuable diagnostic tool in the preoperative staging of SCC of the oral cavity and its use is superior to stand-alone morphologic imaging, the authors concluded.