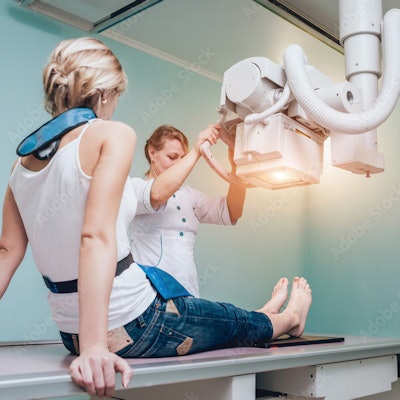 2022 was somewhat challenging for vendors of fixed digital radiography (DR) systems, with market expansion impeded by inflationary pressure, stretched healthcare budgets, and increased average selling prices. However, this has set the stage for a strong rebound in 2023, with the fixed DR market predicted to grow by 8.8%, reaching $1.3 billion (1.2 billion euros).
According to Signify Research's "2023 General Radiography & Fluoroscopy report," the market outlook from 2022 to 2027 is more favorable for fixed DR than mobile DR systems, pacing at a revenue compound annual growth rate (CAGR) of 7.2%. However, the pandemic-related surge in demand for mobile DR systems in 2020 and 2021 will continue to impact the market in the coming years, with orders and replacement cycles brought forward, limiting the market outlook to a CAGR of 3.5%.
The fluoroscopy market is expected to maintain a steady growth rate of 2.1% CAGR during the same forecast period. Still, it faces challenges such as increased competition from alternative modalities, decreased procedure volumes, and market consolidation limiting its expansion.
Below are the key trends we identified in the 2023 edition of our general radiography and fluoroscopy report.
Doing more with less
Healthcare providers continue to navigate increased patient footfall and procedural demand amid workforce challenges, with a scarcity of radiologists and technicians in many countries. Restricted healthcare budgets intensify the situation due to inflationary pressures and economic uncertainty.
As a result, the need for less reliance on technician experience and the move to "deskill radiography" has facilitated an uptick in demand for automated workflow solutions, enabling smart protocolling and patient positioning, one-click examinations, and automated image rotation. AI-enabled workflows to reduce scan times and facilitate higher patient scan volumes are shifting from a "nice-to-have" to a "must-have" feature, with a growing influence in purchasing decisions.
Despite a lack of reimbursement, the promise of improving operational efficiencies is enabling the growing adoption of embedded (on-scanner) AI solutions. As a result, vendors in the high-end market are actively expanding their AI capabilities, both with native (in-house) algorithm development and with increased collaborations with third-party AI developers.
For instance, Agfa Radiology Solutions collaborated with Lunit to offer the "Insight CXR" tool on the Musica workstation to identify chest abnormalities, alert radiologists of critical findings, and help prioritize patient caseloads. This partnership has enabled Agfa to compete more directly with GE HealthCare's Critical Care Suite and Fujifilm's FDR AQRO in the high-end mobile DR market.
Standing out from the crowd
Vendors of general radiography and fluoroscopy systems are accustomed to intensifying competition, market saturation, and the emergence of new market entrants. Among such adversities, vendors must focus their strategy beyond transactional sales and one-off system installations. Established vendors are increasing their focus on managed services and fleet service packages to drive operational efficiencies for providers and differentiate from low-cost market competitors. This also enables vendors to establish secure and reliable recurring revenue streams.
Macroeconomic pressures and budgetary constraints are fueling interest in multimodality service deals, as they can be more cost-effective. Newcomers to the x-ray equipment market will face challenges, mostly in developed markets, due to the prevalence of managed service agreements and long-term contracts. The increasing importance of a complete product portfolio, including digital tools and service aspects in such agreements, adds to the challenge.
This poses a significant challenge for Chinese vendors, such as United Imaging, which are determined on global market expansion to displace their competitors in developed and emerging markets. Established vendors are shifting focus from marketing and promoting individual technologies and products to whole product lines and service offerings to strengthen their market position.
A leap forward
United Imaging had a successful 2022, increasing its DR revenue by 10% and penetrating mature markets such as North America and Western Europe, all while quadrupling its DR sales in Europe, the Middle East, and Africa. Such growth is commendable given the Chinese market, easily United Imaging's largest market for DR systems accounting for over 80% of its sales, declined by 3.4% in 2022.
Other Chinese vendors compete aggressively in the low-end market, with competitive pricing as their primary business strategy for expanding their market presence. As China approaches an equipment update cycle, with many systems now reaching the end of their lifetime and pent-up demand needing fulfillment, Chinese vendors are firmly positioned to capitalize on this opportunity. International expansion focuses on price-sensitive markets such as Eastern Europe, India, Russia, Latin America, and Africa.
Further disruption is also anticipated within the high-end DR market as Chinese vendors increase their research and development expenditure on high-end technology. Established vendors will continue to be challenged in price-sensitive markets by local vendors, especially in India and China, with government initiatives incentivizing the purchase of domestically produced systems.
The future outlook
The market outlook for mobile and fixed DR systems looks promising in the short to midterm. Demand from inpatient facilities is expected to ease in more mature geographies, with market saturation and maturity well underway.
However, the continued growth in the number of outpatient facilities, primarily in the U.S., will facilitate new demand, primarily for floor-mounted DR solutions due to compatibility with infrastructures. The consumerization of medical imaging, with retail giants such as Walmart expanding their imaging services, will further facilitate this trend.
In 2026 and 2027, the U.S. market is forecast to have a significant replacement cycle, as the digital radiography systems purchased following the change in Medicare reimbursement for analog x-ray studies in 2016 are now approaching the end of their lifespan. Growth in the low-end fixed DR market is forecast to predominantly stem from emerging regions, such as Africa, Latin America, and Asia, with the remaining installed base of computed radiography and analog systems primed for digitalization.
2023 General Radiography & Fluoroscopy -- World -- 2023 presents market dynamics, estimates, forecasts, competitive analysis, and major drivers for the general radiography and fluoroscopy market.
Bhvita Jani is a research manager at Signify Research, an independent supplier of market intelligence and consultancy to the global healthcare technology industry. Signify's major coverage areas are healthcare IT, medical imaging, and digital health.
The comments and observations expressed do not necessarily reflect the opinions of AuntMinnie.com or AuntMinnieEurope.com, nor should they be construed as an endorsement or admonishment of any particular vendor, analyst, industry consultant, or consulting group.