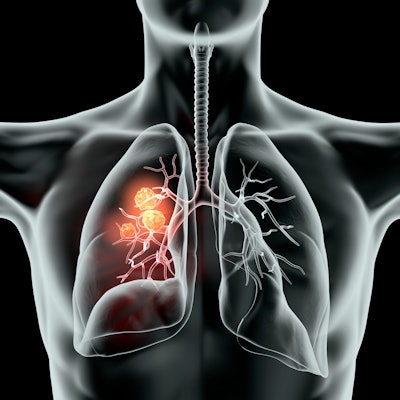 Despite declining tobacco use, lung cancer remains the leading cause of cancer deaths globally, often evading detection until advanced stages. It is unsurprising, then, that interest in targeted lung screening (LCS) programs has risen markedly in recent decades.
Landmark clinical studies, including the NLST and NELSON trials, have done much to progress international discussions among leading health authorities, establishing lung screening's potential to improve patient outcomes. A major development this year, however, was the European Union (EU)'s official recommendation for lung screening programs at national and regional levels across its 27 members. Now, many member states are entering the implementation phase of their respective programs.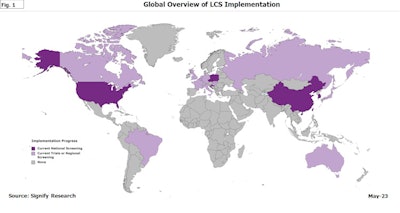 CT is the dominant and recommended modality for lung cancer screening. Therefore, such developments will give rise to heightened demand for CT equipment over the next decade and beyond.
Fundamental questions
Yet, fundamental questions about the scale, approach, and pace of LCS implementation must still be answered, all factors determining how CT vendors can capitalize on the growing market opportunity.
Delivering large-scale screening programs can be time-consuming and often onerous. Few notable examples of national LCS programs exist worldwide, beyond China, South Korea, and the U.S. In the U.S., the Centers for Disease Control and Prevention (CDC) estimates that only around 6% of the eligible population ever undergo the procedure.
This underutilization stems from several significant barriers to uptake, including poor reimbursement opportunities for private clinics, insurers' restricting policy coverage to lower-cost imaging centers, and underinvestment in geographic reach. Although the market presence of mobile imaging centers is expanding, this change has been gradual.
Whether European programs will fare better in these respects remains to be seen. Still, more densely populated nations with substantial public funding have had a more successful track record of implementing other screening programs, such as those for breast cancer.
Additionally, regardless of how competently designed and executed lung cancer screening programs are, the speed of implementation so far indicates that the near-term market impact of new and revised LCS initiatives will be relatively modest. France, for instance, has scheduled its CASCADE pilot for 2024 at the earliest.
As mentioned, participation in the U.S. is still constrained by limited funding, and in the U.K., the National Health Service (NHS) has been running a pilot in parts of England since 2019, but no roadmap for the national rollout has yet been announced. Instead, LCS-driven CT demand will materialize mainly in the medium to long term, with the help of emerging clinical findings and international collaboration efforts, such as the SOLACE project in the EU.
Broader concerns
Indeed, potential impediments extend beyond screening capacity itself. Emerging discussions around how and whether healthcare systems can manage significant increases in lung cancer cases overshadow the prevailing momentum. An installed base capable of LCS procedures does not negate ongoing crises such as high rates of radiologist burnout, shortages of trained staff, and surging energy costs. Ensuring that influxes of lung cancer patients do not exacerbate these problems could present a significant political obstacle in some countries.
Another challenge is the enduring stigma around lung cancer. Sometimes overlooked, this is the perception that incidences of lung cancer, relative to other cancers, are primarily caused by lifestyle choices rather than genetic predisposition. The reluctance to seek treatment continues to hinder early interventions. In this regard, new and existing screening programs could benefit from framing check-ups as dedicated to general lung health (CT scans can identify several pulmonary and cardiovascular diseases). They may also promote complementary smoking cessation initiatives.
Market trends
With the American Cancer Society forecasting 238,000 new lung cancer cases in the U.S. alone this year, the proliferation of LCS promises to augment sales of CT equipment significantly over the next decade. Though, from a hardware perspective, at least, this shouldn't prompt an overhaul of vendors' product portfolios: almost the entire installed base is suitable for performing LCS scans.
Aside from bolstering demand for workhorse solutions, the most notable hardware impact will be the rising influence of mobile CT, which remains niche in much of the global market. Therefore, product differentiation will be achieved principally through marketing and innovation of nonhardware features. Examples of this are already emerging. One such case, at ECR 2023, was Canon Medical's new 160-slice system and the promotion of its ability to integrate into the LCS workflow with dedicated and standardized software protocols for lung scanning. This is despite the system being a far higher spec than clinically required.
Lung cancer artificial intelligence (AI) is a market that will see more substantive change. Yet to reach maturity, lung cancer AI fits into the broader CT AI trend of workflow efficiency and image analysis, but its evolution could drastically affect LCS in years to come. For example, MIT's Sybil is a deep-learning model that can detect signs of lung cancer at earlier stages than some doctors.
While still pending FDA approval, preliminary results suggest it can identify if cancerous lesions will develop in a patient within a year, with 90% accuracy. The recently approved Aview LCS, developed by Coreline Soft, also supports image interpretation, substantially cutting read times and reducing incidences of false positives. Such advances will accelerate the adoption of LCS globally, particularly as strains on healthcare systems, including severe radiologist shortages, have been prohibitive in many cases.
Of course, OEMs may capitalize on the growing promise of lung cancer AI by securing value-enhancing partnerships and acquisitions. Identifying which third-party vendors offer the most credible AI products or, indeed, which offer the best expertise to assist the development of in-house software, will propel improvements in scan times, read times, and case prioritization. The rewards from such strategic maneuvering will thus prove critical in differentiating a vendor from its competition and could create an opportunity to demonstrate superior ROI.
In addition, forming partnerships with healthcare charities and other bodies could be a big step towards consolidating brand presence in the lung-screening-workhorse space. With these factors considered, established market players will, on balance, gain the most from the evolving guidelines.
The Bottom Line
Major national and regional lung cancer screening programs will be commonplace in Europe 10 years from now. Moreover, the takeoff of European programs marks a transformative shift for LCS, serving as a catalyst for technological innovation and the introduction of new programs worldwide.
In a sense, the question is no longer whether LCS will accelerate demand for CT equipment but how decisively vendors will take advantage of the coming tide. On this point, rising investment in cutting-edge AI solutions, decisive strategic plays, and LCS-orientated marketing will ultimately determine which vendors establish a commanding position in the space and which are left frustrated on the sidelines.
Matthew Watson is a market analyst for medical imaging at Signify Research, an independent supplier of market intelligence and consultancy to the global healthcare technology industry. Signify's major coverage areas are healthcare IT, medical imaging, and digital health.
Signify will be publishing its CT Equipment - World – 2023 report in June.
The comments and observations expressed do not necessarily reflect the opinions of Auntminnie.com or AuntMinnieEurope.com, nor should they be construed as an endorsement or admonishment of any particular vendor, analyst, industry consultant, or consulting group.