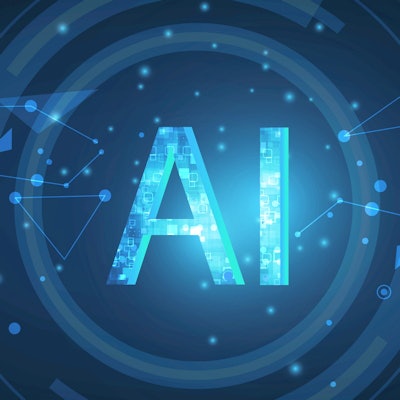 The medical imaging AI market was estimated at $576 million (517 million euros) in 2022, an increase of more than $75 million (67 million euros) compared to Signify Research's 2021 report. The market is forecast to soar and reach more than $1.73 billion (1.6 billion euros) by 2027, with a growth rate of 25% across the forecast period.
Despite this aggressive growth outlook, the market has yet to "cross the chasm" for most clinical applications. Commercial and care pathways must better facilitate the adoption of AI and issues with regulatory processes must be overcome so that this forecast can be realized.
Widespread AI adoption?
AI has truly come to the forefront in 2023, with real-world developments being announced regularly. Further, academic research continues to advocate for the use of AI in radiology to drive workflow efficiencies and improve patient outcomes.
Research published in Nature Communications demonstrated the ability of Us2.ai's echoAI solution to interpret 23 echocardiographic parameters comparably to human experts. Another paper published in Lancet Digital Health found that the use of Vara, an AI breast imaging solution, alongside a radiologist achieved greater sensitivity and specificity than when the AI tool or radiologist analyzed the scans alone.
Medical imaging AI also offers health economic benefits, including tripling the chance of patients living independently after a stroke (National Health Service England), and the wider adoption of AI in healthcare has the potential to significantly reduce healthcare costs, for example, saving the U.S. between $200 billion (180 billion euros) and $360 billion (323 billion euros) per year (McKinsey and Harvard University).
Further, changing attitudes toward AI are shifting the landscape, with studies reporting greater confidence among radiologists when using AI as a diagnostic support tool. The increased confidence and willingness to implement AI could be due to the advancement of algorithms and the continued development of both comprehensive solutions and AI platforms.
AI platforms (for example from Blackford Analysis or Nuance Communications) offer the advantage of simplifying the deployment and integration of AI in the radiology workflow while also enabling collaboration across the clinical care pathway, driving market momentum.
Slice of the pie
The market continued to be dominated by four main clinical segments in 2022, namely cardiology (172 million euros), neurology (142 million euros), pulmonology (79 million euros), and breast imaging (62 million euros), accounting for 88% of market share overall (as shown in Figure 1).
To remain competitive, vendors will increasingly look to deploy their tools via the cloud, with cloud deployment accounting for nearly $1.1 billion (988 million euros) of the market in 2027. This route of deployment ensures the ease of updating AI solutions and the ability to couple deployment with an operational expenditure (OpEx), e.g., a software-as-a-service business model.
Vendors are increasingly favoring an OpEx business model over capital expenditure purchases for AI. However, some companies have experienced a temporary blip in revenues when shifting to this model, with the value of contracts being realized over the duration of the contract rather than receiving significant payment outright. Nevertheless, such transitions for vendors should prove beneficial in the long term.
Full speed ahead
One of the major drivers promoting the adoption of medical imaging AI solutions is the introduction of new reimbursements in the U.S, e.g., for Cleerly (plaque analysis) and Perspectum (fatty liver disease), as well as Viz.ai's continuing to receive its New Technology Add-on Payment for stroke large vessel occlusion solutions (that can be leveraged by other stroke imaging AI vendors).
Current procedural terminology (CPT) codes provide an incentive for healthcare providers to adopt AI as well as a pathway to receive reimbursement, allowing AI vendors to further fund and develop their solutions. Further to the category III CPT codes announced in 2021 and 2022, the American Medical Association announced a new CPT code for AI solutions for brain volumetry analysis at the start of July this year.
Another is the continued influx of venture capital investment in the imaging AI market, which provides an additional means for vendors to develop and advance their AI algorithms. However, investors are becoming increasingly discerning in the companies they invest in, prompting AI vendors to continually innovate their offerings.
The explosion in the number of commercially available AI platforms to tackle the last-mile challenges of deployment, integration, and orchestration is expected to drive the market forward. AI platforms provide healthcare facilities with a simpler, safer, and more cost-effective way of adopting and utilizing AI solutions.
Room for improvement
Not all is as rosy as outlined above. There are several hurdles to overcome before AI becomes the norm in the radiology department. For instance, although reimbursement has been realized for a few clinical cases, it generally remains limited across all clinical segments, especially beyond the U.S.
Additionally, there have only been a few companies to date that have looked to leverage the category III CPT codes for their solutions in radiology AI, limiting the traction needed to upgrade these to category I CPT codes with obligatory reimbursement.
The number of regulatory approvals secured across both Europe, the Middle East, Africa, and Asia over the backend of 2022 and first half of 2023 has been surprisingly low. Two National Medical Products Administration approvals and only 12 CE marks have been awarded in 2023 to date, demonstrating a decline compared with previous years.
Across Europe, the planned transition from the Medical Devices Directive framework to the new Medical Devices Regulation has disincentivized vendors from seeking CE approval, but with the extended deadline coming into force, it is hoped this will improve.
As AI algorithm offerings become more advanced, it is pertinent that developers ensure that their models are generalizable. The testing of AI models is often conducted on relatively small and enriched samples, introducing patient geography and demographic bias. Because of this, it has been found that some AI products, when deployed commercially, may not deliver the same performance in real-world clinical settings.
Crossing the chasm
Medical imaging AI is becoming more accessible and supported across healthcare systems; however, with this comes the need to address the barriers to widescale adoption and deployment. The landscape is highly saturated, but the market is maturing, and it looks to cross the chasm.
As such, vendors will need to continue to innovate to ensure that their solutions stand out from the competition and deliver ease of use, return on investment, and breadth of capabilities for customers. Vendors that take account of these criteria will be the ones that are able to profit from this booming market.
AI in Medical Imaging Market Intelligence Service provides regular data, strategic insights, and in-depth analysis on the global market opportunity for AI-based medical image analysis.
Ellie Baker is a market analyst at Signify Research, an independent supplier of market intelligence and consultancy to the global healthcare technology industry. Signify's major coverage areas are healthcare IT, medical imaging, and digital health.
The comments and observations expressed do not necessarily reflect the opinions of AuntMinnie.com or AuntMinnieEurope.com, nor should they be construed as an endorsement or admonishment of any particular vendor, analyst, industry consultant, or consulting group.