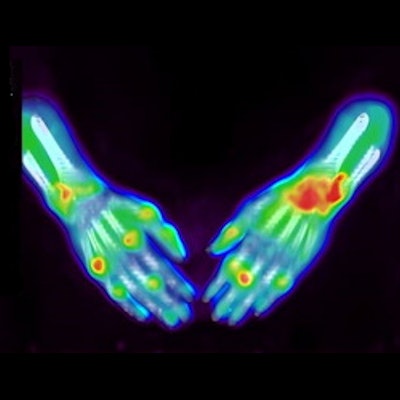 PET imaging of immune cells involved in bone and joint damage in rheumatoid arthritis (RA) can predict which patients will respond early to treatment, according to a study published on 11 February in Rheumatic and Musculoskeletal Diseases.
Dutch researchers studied whether whole-body PET/CT imaging with a carbon-11 (C-11) PET radiotracer could detect changes in inflammatory macrophage activity in RA patients in response to treatment. The approach showed whether treatment was working as early as two weeks after the start of treatment, the researchers found.
"Early assessment of clinical response through the use of macrophage PET imaging could potentially improve treatment efficacy in patients with early RA," wrote corresponding author Dr. Conny van der Laken, an associate professor of rheumatology at Amsterdam University Medical Center.
RA is a systemic autoimmune disease that usually begins in the small joints of the hands and feet and then spreads to larger joints. Inflammation driven in part by macrophages in the joint lining or synovium erodes cartilage and bone, which can cause joint deformity and physical disability.
Effective treatments include COBRA (combination therapy in rheumatoid arthritis) therapy, which consists of a cocktail of disease-modifying antirheumatic drugs (DMARDs), such as methotrexate, sulfasalazine, and prednisolone.
Standard imaging techniques such as CT, MRI, and ultrasound provide anatomical and functional data helpful in diagnosing and monitoring treatment of RA patients, yet researchers are testing whether molecular activity shown on PET imaging could help manage patients at earlier stages of the disease.
Moreover, standard clinical assessment of treatment response in RA patients can take a minimum of 12 weeks, while PET tracers that have been developed to bind to immune cells involved in RA may be able to provide similar data during a single whole-body PET/CT imaging session, according to the authors.
"New tools are urgently needed to help clinicians to evaluate treatment response as early as possible, in order to continue treatment or switch to another treatment modality," the authors wrote.
In this study, the Dutch group tested whether PET/CT imaging with a tracer designed to bind to macrophages in arthritic joints (R-[C-11] PK11195) could determine the effectiveness of COBRA therapy in patients as early as two weeks after they started treatment.
The researchers identified 35 newly diagnosed RA patients (18 men and 17 women) who had not previously undergone COBRA treatment. Between April 2015 and December 2017, patients received whole-body R-(C-11) PK11195 PET/CT scans (Gemini TF or Ingenuity TF scanners, GE Healthcare) at baseline and after two weeks of COBRA treatment.
Patients received standard clinical care and clinical evaluations by assessing Disease Activity Score of 44 joints (DAS44) at 0, 2, 4, and 13 weeks of treatment. PET/CT scans were assessed visually by two experienced readers and by calculating standardized uptake values (SUVs) for shoulders, elbows, hips, knees, and hand and feet joints. Clinical and PET variables were compared.
The results showed that all but one of the 35 patients demonstrated visually enhanced uptake of the tracer in one or more joints on PET/CT. A total of 171 out of 1,470 involved joints (12%) were visually PET-positive at baseline.
In addition, 90% of PET/CT-positive sites were located either in the wrists (15%), small hand joints (37%) or small feet joints (40%), and after two weeks of treatment, the total number of PET-positive joints had decreased to 100, the researchers found.
Importantly, the average SUV in the feet at two weeks correlated significantly with DAS44 scores for patients after 13 weeks of COBRA treatment, the researchers stated.
"The data show that quantitative assessment of arthritis on PET/CT as early as two weeks has predictive value for the clinical response to treatment, especially when combined with the DAS44 score. In particular, assessment of the feet on PET/CT combined with the DAS44 score at two weeks showed substantial correlation with therapeutic outcome at 13 weeks," the researchers wrote.
Ultimately, this was a proof-of-concept study, and the first to assess the value of macrophage PET imaging for therapy monitoring in patients with RA, the researchers wrote. Perhaps the study's most significant finding is that quantitative PET/CT feet imaging may have value for predicting treatment response, they wrote.
To date, feet have been excluded in most PET studies of patients with RA, although early RA often involves or starts in the small feet joints. In addition, disease activity in feet is difficult to assess clinically, while macrophage PET seems to be highly sensitive to detect early local disease, the authors wrote.
"In future studies, the PET protocol could even be simplified by only scanning the feet instead of the whole body," van der Laken and colleagues concluded.