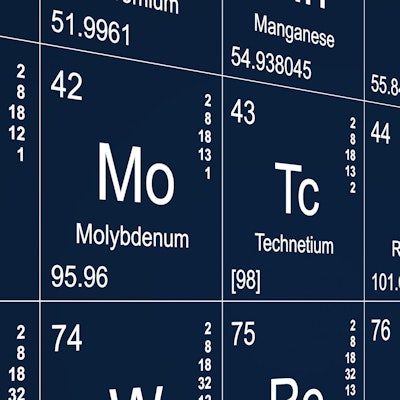 A shutdown at a nuclear reactor in Petten, the Netherlands, will impact global supplies of molybdenum-99 (Mo-99) and lutetium-177 (Lu-177) for medical use in coming weeks, warned Europe's nuclear medicine agency.
Radioisotope manufacturer Nuclear Research and Consultancy Group (NRG) informed Nuclear Medicine Europe (NMEu) that it shut down its High Flux Reactor (HFR) in Petten on January 20 after detecting a water leak in the reactor beam tube cooling system. There was no risk to workers or the general public, and the reactor remains in stand-by status pending an investigation, said NMEu's Emergency Response Team.
Mo-99 and Lu-177 targets that had been scheduled to be irradiated are now delayed, and the supply of the isotopes will be impacted. Both isotopes are used for medical applications, with Mo-99 being the precursor to technetium-99m, one of the most widely used radioisotopes for nuclear cardiology. Lu-177 is often used for therapeutic applications.
"Medical institutions should contact their radioisotope suppliers to determine the specific impact on their orders," NMEu stated in the notice.
In a call with HFR officials on 24 January, NMEu said it was informed that endoscopic inspections of difficult to access piping have been performed, but the root cause of the leak has not been identified. Additional inspections are foreseen this week.
The NRG project team in place will determine what kind of actions will be required to address the leak and enable the reactor to return to service after regulatory review and approval, NMEu stated.
An update is expected on 31 January.