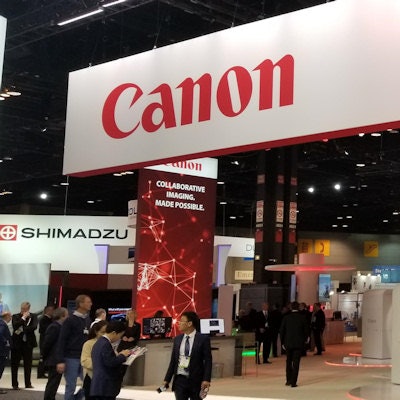 Canon Medical said it will not attend the in-person versions of the upcoming RSNA and American Society for Radiation Oncology (ASTRO) conferences and instead will focus on exhibiting virtually at these meetings.
Canon, the parent company of Canon Medical Systems, said that due to "recent developments in the COVID-19 pandemic," the company would have only a digital presence at any remaining major conferences in the U.S. for the remainder of 2021.
The company said the move applies specifically to the ASTRO and RSNA meetings, scheduled for October and November, respectively. Both meetings are to be held at McCormick Place in Chicago.
"We have included an assessment of the current rapid spread of the COVID-19 Delta variant, its effect on hospitalization rates, and the associated incidence of breakthrough cases, in formulating our business decisions," said Toshio Takiguchi, president and CEO of Canon Medical Systems. "We have also been listening to our customers from around the world and their many and varied concerns around this ongoing situation."
Takiguchi said the company's decision to exhibit only on a virtual basis was made out of a "social responsibility to protect customers and peers at McCormick Place, and to ensure employees and their families' safety."
Canon's move could be a blow to both conferences, which had hoped to host in-person meetings after holding only digital events in 2020 due to the COVID-19 pandemic. Several other medical meetings have been held in recent months as conference organizers try to get back on track with destination meetings, but most of these events have seen sparse attendance.
What's more, organizers of at least two radiology conferences held in recent months have sent letters to attendees after the events notifying them that they may have been exposed to COVID after other attendees were found to test positive.
ASTRO is scheduled to be held from 24-27 October, while RSNA is scheduled for 28 November to 2 December.