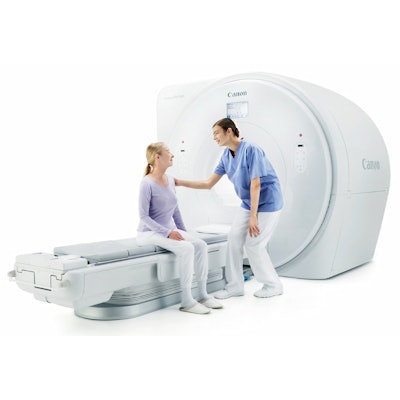 Canon Medical Systems unveiled its new Vantage Fortian MRI system on 13 July at ECR 2022 in Vienna, Austria.
The new MRI system features innovative workflow solutions, image enhancement, and accelerated scan technology, which together contribute to reducing the time required for MRI procedures, the company said.
Vantage Fortian features a mobile interface that allows remote monitoring and data integration, and in-room scan assist technology that automatically checks coils and patient position. The MRI system employs artificial intelligence (AI) Clear-IQ Engine (AiCE) technology, which leverages deep-learning reconstruction technology to deliver noise-free images, accelerated scan time, or both at the same time. AiCE is applicable to all anatomies and covers 96% of all MR procedures for 2D and 3D acquisition, Canon said.
In addition, with compressed sensing and parallel imaging accelerated scan technologies, Canon Medical has incorporated new clinical solutions into the Vantage Fortian to address challenges across the entire MRI diagnostic workflow, the company said.