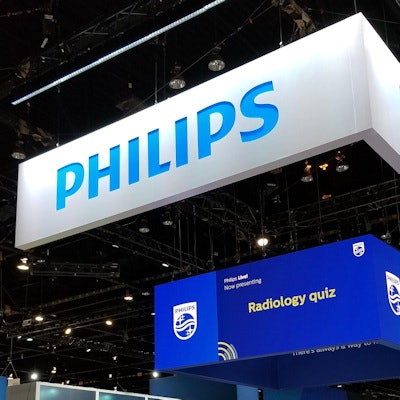 Royal Philips is highlighting a number of image-guided therapy technologies at this week's EuroPCR 2021 meeting, including its IntraSight Mobile interventional applications platform.
IntraSight Mobile is designed to integrate imaging and physiology applications on a mobile system for coronary and peripheral artery disease therapy, according to the vendor. With IntraSight Mobile, interventional cardiologists can, for example, perform intravascular ultrasound (IVUS) imaging, as well as physiological measurements of fractional flow reserve (FFR) and instant wave-free ratio (iFR) to identify the location of lesions causing ischemia, Philips said.
The system used the same software as IntraSight and is compatible with the firm's current and future portfolio of IVUS and physiology disposables. It also includes a touchscreen panel PC and a hard-wearing multimodality touchscreen module mounted on a cart.
In other product news at PCR 2021, Philips said it has received the CE Mark for its OmniWire solid-core pressure guide wire for coronary artery interventions. OmniWire supports iFR and FFR measurements, which can be co-registered onto angiograms to identify the parts of the vessel that require treatment, according to the company.
Philips is also showcasing its new laser system for coronary and peripheral atherectomy procedures, as well as its recently introduced IntelliVue X3 interventional hemodynamic system and patient monitor.