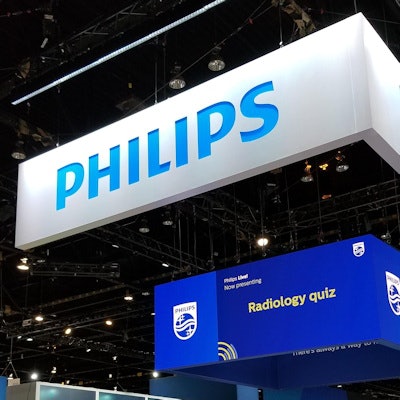 Philips Healthcare posted second-quarter revenue increases in its Diagnosis & Treatment division, which includes its medical imaging operations.
The segment posted revenues of 2.117 billion euros, up 10% from 1.919 billion euros for the same period in 2020. The quarter saw the introduction of Philips' new Spectral CT 7500 system and a renewed partnership with radiation oncology firm Elekta to collaborate further on personal cancer care and treatment, the company said. Additionally, Philips' image-guided therapy, enterprise diagnostic informatics, diagnostic imaging, and ultrasound businesses all showed double-digit growth.
The Diagnosis & Treatment division posted income from operations of 262 million euros compared with 104 million euros for the same period the year before. Adjusted earnings before interest, taxes, and appreciation (EBITA) margin increased to 13.2%, compared with 8.7% in the second quarter of 2020.
"Looking ahead, while we continue to see uncertainty related to the impact of COVID-19 across the world and electronic component shortages, our financial outlook remains within our guided range," CEO Frans van Houten said in a statement released on 26 July by the firm.