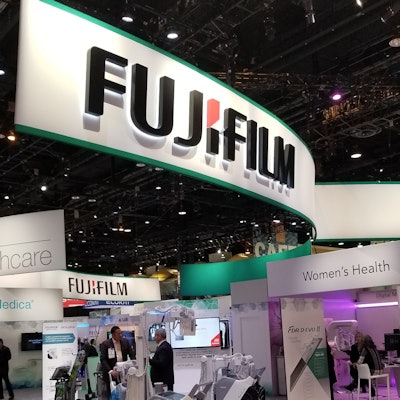 In what would be its latest deal in an ongoing acquisition spree in healthcare, Fujifilm has made an offer to buy French radiopharmaceutical developer Curium Pharma in a transaction that could be valued as high as 2.7 billion euros, according to a January 14 report from Bloomberg.
The proposal from Fujifilm reportedly pits the Japanese company against a number of private equity firms also interested in acquiring the Paris- and London-based global nuclear medicine company. Among the other suitors are CVC Capital Partners, Bain Capital, Nordic Capital, and PAI Partners, and Clayton, Dubilier & Rice, according to the report. The next round of bids could come as soon as February, Bloomberg added. Fujifilm and CapVest, which owns Curium Pharma, declined to comment.
If Fujifilm were to acquire Curium Pharma, it would extend Fujifilm's acquisition spree within healthcare over the past several years. The company made headlines in December 2019 with the unveiling of plans to buy the medical imaging business of Hitachi for 179 billion yen (1.46 billion euros). The purchase includes Hitachi's MRI, CT, x-ray, and ultrasound operations, as well as its electronic health records business, with annual revenues of 1.18 billion euros.
Hitachi's board of directors already has approved the transaction, which would result in a major consolidation of Japanese medical device firms and allow the new entity to compete with the world's largest multimodality vendors. The deal is scheduled to close in July 2020.
Curium was created in April 2017 when radiopharmacy vendor IBA Molecular merged with Mallinckrodt's nuclear imaging business. Shortly thereafter, IBA rebranded the business as Curium as a global developer, manufacturer, and supplier of SPECT, PET, and therapeutic radiopharmaceuticals.
Curium has been active on its own of late. Among the company's current activities is its collaboration with biotechnology firm RadioMedix to develop the PET diagnostic radiopharmaceutical copper-64 (Cu-64) DOTATATE. The duo this month filed a new drug application (NDA) with the U.S. Food and Drug Administration (FDA) and quickly received fast-track designation for the radiotracer from the FDA.
In November 2019, Curium announced plans to submit an abbreviated NDA for a generic version of ioflupane iodine-123. The SPECT brain imaging agent currently is marketed by GE Healthcare as DaTscan, which designed to help evaluate adult patients with suspected parkinsonian syndromes. If approved, Curium expects to launch its product as early as the end of 2020.
Curium also joined Progenics Pharmaceuticals in January 2019 in an exclusive agreement to develop and commercialize Progenics' prostate-specific membrane antigen (PMSA)-targeted small molecule PET/CT imaging agent in Europe.