A newly released study in this month's issue of the Journal of Nuclear Medicine has found that SPECT/CT is better than planar imaging in accurately determining lymph node involvement at radioablation performed for thyroid cancer.
In the study, researchers from the University of Erlangen-Nürnberg in Erlangen, Germany, also concluded that SPECT/CT might change the management of care for approximately one-fourth of patients with thyroid carcinoma by upstaging or downstaging their disease.
The study was published in the January issue of the Journal of Nuclear Medicine (January 2009, Vol. 50:1, pp. 18-23).
Researchers enrolled 65 patients in the study at the university's Clinic of Nuclear Medicine from January 2006 until October 2007. The patients were admitted for their first radioablation of differentiated thyroid carcinoma three to six weeks after thyroidectomy.
Post-therapeutic SPECT/CT was conducted on 54 patients; SPECT/CT was not available for technical or logistical reasons for 11 patients. Researchers also added three patients studied in 2005 with SPECT/CT at radioablation.
The study sample consisted of 22 men and 35 women, with a mean age of 49.6 years, ranging from 13 to 86 years. All patients had differentiated thyroid carcinoma confirmed by histology. Lymph node dissection was performed in 28 patients.
Imaging protocol
Planar whole-body scintigraphy and separate imaging of the neck were performed an average of 3.7 days after therapy, usually after a dose rate lower than 13 mSv per hour. Immediately after planar scintigraphy, a SPECT/CT scan was acquired using a hybrid camera combining a dual-head gamma camera with dual-slice or six-slice spiral CT (Symbia T2 or T6, respectively, Siemens Healthcare, Erlangen, Germany).
The planar scintigraphy images were acquired using the SPECT component of the hybrid camera, or a standalone dual-head gamma camera (Basicam, Siemens).
All patients underwent the routine planar imaging protocol at the university's clinic, including whole-body scans and spot planar images of the cervical and abdominal regions. Both SPECT and CT were acquired during shallow breathing with patients in a supine position. The time between SPECT and CT was less than three minutes.
In their analysis, the researchers found that planar imaging discovered 143 cervical foci of radioiodine uptake, and no additional foci were disclosed by SPECT/CT. In 28 of the 143 foci (19%), SPECT/CT led to a revision of the original diagnosis, with six of 11 lesions considered to be lymph node metastases and 11 of 15 lesions, initially considered indeterminate, reclassified as benign.
SPECT/CT's prowess
SPECT/CT also identified 11 lymph node metastases, which originally were misinterpreted as a thyroid remnant or classified as indeterminate on planar imaging.
The researchers also concluded that SPECT/CT determined or revised the planar imaging diagnosis in 24 of 57 patients, while in 20 of 57 patients, SPECT/CT garnered additional information on nodal stage.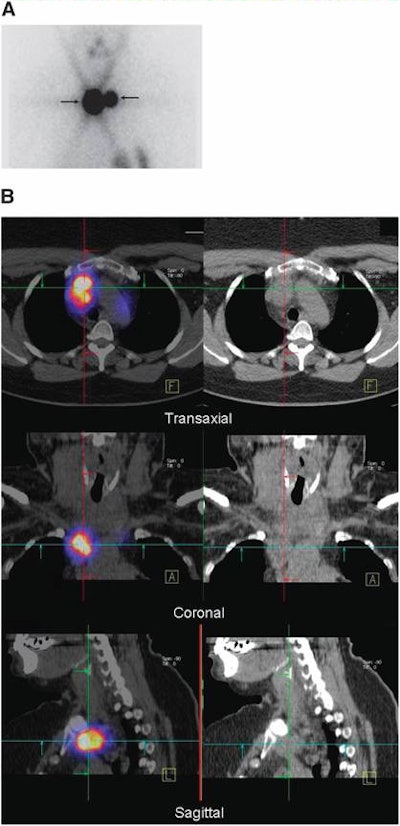 Fifty-four-year-old woman with differentiated papillary thyroid carcinoma after total thyroidectomy and lymph node dissection of centrocervical and left lateral compartment. Image A is planar scintigraphy, which shows two iodine-131-avid foci interpreted as thyroid remnant. Image B is SPECT/CT (left column) and CT (right column), which demonstrate that these foci correspond to lymph node metastases in the superior mediastinum. Images courtesy of the Journal of Nuclear Medicine and University of Erlangen-Nürnberg.
SPECT/CT also was instrumental in the downstaging of disease in 12 patients compared to planar imaging, with upstaging of nodal stage occurring in eight patients. That change in risk stratification for planning follow-up occurred in 14 of 57 patients, with nine patients reclassified as low-risk and five patients as high-risk.
With those results, the authors concluded: "Compared with planar imaging, SPECT/CT yielded a gain in information on nodal stage in 35% of the patients studied. Furthermore, SPECT/CT altered risk stratification in 25%, thus altering follow-up in these subjects."
'Routine procedure'
The researchers also noted that their results "suggest that SPECT/CT should be used as a routine procedure in [differentiated thyroid carcinoma] patients at the first radioablation," adding that "some drawbacks of the present data should still be considered," such as "SPECT/low-amperage CT [adding] a radiation dose ranging from 2 to 3 mSv to that of radioiodine."
With that caution, the researchers opined that the "hypothetical risk attributable to this dose is negligible compared with the obvious benefits of this hybrid imaging technology."
They recommended that additional research be pursued to determine if subgroups of differentiated thyroid carcinoma patients might benefit from SPECT/CT performed at radioablation.
"Our results should also motivate the creation of studies analyzing the impact of SPECT/CT on outcome variables, such as patient survival or its cost efficiency -- variables that were beyond the scope of the present publication," the authors wrote.
By Wayne Forrest
AuntMinnie.com staff writer
January 5, 2009
Related Reading
SPECT/CT once again shows value in bone lesion location, September 18, 2008
SPECT/CT mammography system produces first patient images, July 30, 2008
SPECT/CT offers better bone scan views to enhance treatment, September 21, 2007
SPECT/CT offers on-target diagnosis in noncancerous bone disease, March 23, 2007
SPECT/CT enhances octreotide imaging, January 12, 2007
Copyright © 2009 AuntMinnie.com