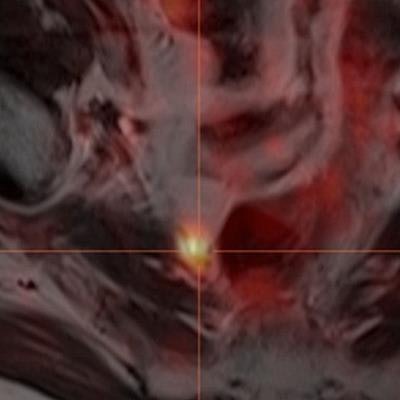 Austrian and U.S. researchers have increased the detection of disease recurrence after radical prostatectomy by using PET imaging with a novel gallium-68 prostate-specific membrane antigen (PSMA) conjugated ligand. Their study was published online on 26 October in the European Journal of Nuclear Medicine and Molecular Imaging.
PET imaging with the gallium-68 (Ga-68) PSMA-HBED-CC conjugate 11 ligand (PSMA-PET) advanced the detection of recurrent prostate cancer at relatively low PSA levels and also provided "significant information" to standard CT and MRI scans, which, in turn, changed treatment management for 75% of patients (EJNMMI, 26 October 2017).
"Our data confirm the superior detection rate of disease recurrence sites using PSMA-PET/CT [and] PET/MRI in patients with biochemical recurrence after radical prostatectomy for prostate cancer, compared with the guideline-recommended standard imaging modalities," wrote lead author Dr. Bernhard Grubmüller, from the Medical University of Vienna, and colleagues. "Additionally, we could demonstrate a clinical impact toward metastases directed therapies in a cohort of patients with low PSA-level recurrences."
Cancer recurrence
Prostate cancer accounts for approximately 11% of all cancer-related deaths in Europe, and curative therapy is only partially successful, with as many as 40% of patients experiencing disease recurrence, previous studies have found.
While molecular imaging and the use of specific target probes have advanced detection and diagnoses for prostate cancer recurrence, there remains the need for "more accurate and earlier detection of metastases at lower PSA levels" to tailor individualized salvage therapies, the authors wrote. "In this context, Ga-68-labeled PSMA-HBED-CC conjugate 11 has emerged as a promising radiopharmaceutical, albeit still not approved, and, therefore, considered experimental."
In this study, researchers from institutions in Austria and the U.S. analyzed 117 patients' scans for disease recurrence between May 2014 and January 2017. Prostate cancer recurrence was defined as two PSA rises above 0.2 ng/mL.
The median time from radical prostatectomy to disease recurrence was 36 months (range, 16 to 72 months). Among the subjects, 69 (59%) patients underwent postoperative radiotherapy. The median PSA level at the time of imaging was 1.04 ng/mL (range, 0.58 to 1.87 ng/mL).
Among the subjects, 71 (61%) underwent PSMA-PET/MRI (Biograph mMR, Siemens Healthineers) scans. Patients received an intravenous injection of 2 MBq/kg Ga-PSMA-HBED-CC conjugate 11 an hour prior to PET/MRI. The PET protocol included a 3D-acquisition technique and an axial field-of-view (FOV) of approximately 23 cm and a transversal FOV of 45 cm.
The study included 46 (39%) patients who were evaluated with PSMA-PET/CT (Biograph TruePoint 64, Siemens) with scans from the vertex to the upper thigh and an axial FOV of 216 mm. PET imaging was conducted 90 minutes after Ga-68 PSMA-HBED-CC conjugate 11 administration.
Results from the PET/CT and PET/MRI scans were interpreted by an experienced reader for prostate hybrid imaging, while CT and MR images were assessed by a uroradiologist.
Enhanced accuracy
In analyzing the results, the researchers discovered 100 of the 117 patients had at least one PSMA-avid lesion, for a detection rate of 85%. Most importantly, PSMA-PET was the only modality to provide diagnostic information for 67 (67%) patients, with no morphologically suspicious correlation with CT or MRI. In the remaining 33 (33%) cases, both standard CT or MRI and PSMA-PET detected the positive lesions.
PSMA-positive lesions were confirmed through either histology (16%), PSA decrease in metastasis-directed radiotherapy (45%), or additional information in diffusion-weighted MR imaging (18%) in 79% of patients. In fact, the detection rate for PSMA-PET increased in relation to PSA values.
Comparison of PSA values
Detection rate for PSMA-PET
PSA value of 0.2 to < 0.5 ng/mL
65%
PSA value of 1 to < 2 ng/mL
86%
PSA value ≥ 2 ng/mL
100%
Therapy changes
Among the 67 patients with negative results on CT and/or MRI, PSMA-PET changed treatment strategies for 50 (75%) of the patients (p < 0.001) and 57 (86%) people considered for metastases-directed therapies.
The alterations in treatment included 29 (58%) patients who would have been referred for androgen deprivation therapy, 18 (36%) individuals who would have undergone a "wait-and-see strategy," and three (6%) people who would have undergone local salvage radiotherapy even though there was evidence of local recurrence.
"We confirm the high performance of PSMA-PET imaging for the detection of disease recurrence sites in patients with biochemical recurrence after radical prostatectomy, even at relatively low PSA levels," the authors concluded. "Moreover, it adds significant information to standard CT/MRI, changing treatment strategies in a significant number of patients."
Grubmüller and colleagues added that the findings "open windows for targeted therapies before the onset of a systemic approach. Further confirmatory studies with a prospective randomized design are necessary to confirm these preliminary findings."