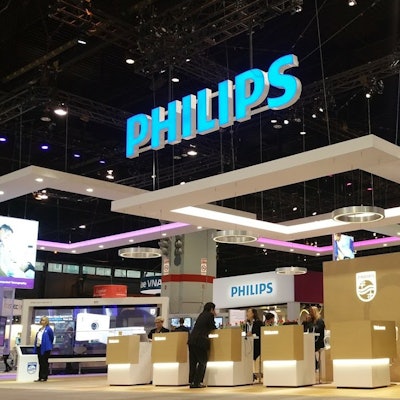 The medical imaging and therapy business of Royal Philips turned in third-quarter revenues that were up 2% after currency adjustments, while the segment's earnings fell due to one-time charges.
For the period (end-September 30), the company's Diagnosis and Treatment business, which includes revenues from Philips Healthcare, turned in revenues of 1.638 billion euros ($1.92 billion), essentially flat compared with last year's figure of 1.635 billion euros ($1.92 billion) but up 2% after taking into account currency fluctuations. The division posted earnings before interest, taxes, and amortization (EBITA) of 105 million euros ($123 million), down from EBITA of 178 million euros ($209 million) in the corresponding quarter of 2016.
The company reported that after currency adjustments, it achieved sales growth in the midsingle digits in its image-guided therapy business and in the low single digits in its ultrasound and diagnostic imaging divisions. On a geographic basis, the business saw double-digit growth in China, Latin America, and India, while North America showed a single-digit decline, Western Europe experienced a double-digit decline, and other mature geographies saw double-digit growth.
EBITA fell due to restructuring and acquisition-related charges of 63 million euros ($73 million), including charges related to its acquisition of Spectranetics.