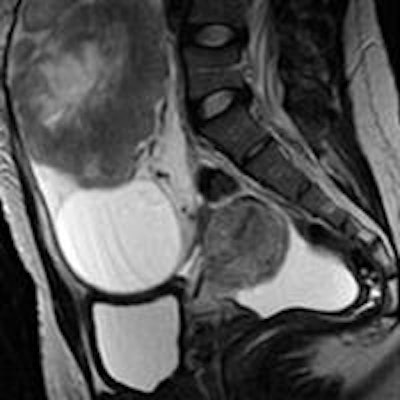 Gynecological neuroendocrine (NE) tumors are rare and aggressive, but they share certain characteristics radiologists need to know about, according to new research from Portugal published in Insights into Imaging. It's also vital to differentiate these neuroendocrine tumors from metastatic disease and other carcinomas with a neuroendocrine component.
NEs are a set of neoplasms that arise from the diffuse neuroendocrine cell system; they are more commonly identified in the gastrointestinal tract, pancreas, lung, and thymus. Gynecological neuroendocrine tumors are uncommon, yet recently a simplified terminology has been proposed, dividing these tumors into two groups: poorly differentiated neuroendocrine carcinomas (NECs) and well-differentiated neuroendocrine tumors (NETs).
Dr. João Lopes Dias from the radiology department at Hospital de São José, Centro Hospitalar de Lisboa Central in Lisbon and colleagues set out to educate radiologists about these rare tumors in a review published online on 16 January by Insights into Imaging.
What are they?
Neuroendocrine tumors are so uncommon that data are scarce and there are no reliable guidelines for diagnosis or treatment. The clinical features of these tumors are nonspecific and depend on the organ of origin, as well as on the extension and aggressiveness of the disease. Small cell carcinoma and large cell NE carcinoma tend to behave aggressively, but these are nonspecific features.
NECs include small cell carcinoma and large cell neuroendocrine carcinoma, while NETs account for typical and atypical carcinoids, the researchers wrote. The most prevalent gynecological NE tumors are cervical small cell carcinoma and ovarian carcinoids.
"The clinical features of gynecological NE tumors generally depend on the organ of origin and are nonspecific," the researchers wrote. "However, some patients may present with paraneoplastic syndromes owing to the production of several peptides and hormones. The absence of endocrine clinical syndromes in most patients with NE tumors is possibly related to the release of insufficient amounts or inactive hormones."
To be classified as an NE tumor, cells must have at least two NE markers, such as chromogranin A, synaptophysin, or neuron-specific enolase. Some cancers have a combination of NE and non-NE features, usually either glandular or squamous components, according to the authors.
It's not very common to find a focal non-NE differentiation in almost pure NE tumors. The researchers also pointed out that the classification of NE tumors, the diagnosis of a mixed exocrine-endocrine tumor, should take into account at least two major diagnostic parameters: an extension of at least 30% for each component and the recognition of structural NE features such as well-differentiated organoid or solid/diffuse growth patterns.
"In fact, no reasonable explanation is provided for the limit of 30%, and consequently morphological criteria should also be considered," they wrote.
How to image them?
Regarding the prognosis of mixed exocrine-endocrine carcinoma in comparison with pure NE or non-NE tumors, there are not much data.
"However, the therapeutic schemes are different and the accurate histological diagnosis is mandatory," the researchers added. "The diagnosis of an NE tumor may be challenging. The differentiation of small cell NE carcinomas from poorly differentiated squamous cell carcinoma (SCC) with NE features may be especially difficult. Sometimes, and particularly for cervical cancers, the recognition of the NE component is only possible after the hysterectomy, since the tissue obtained on cervical biopsy may be insufficient, leading to the diagnosis of poorly differentiated cervical cancer."
Dias and colleagues recommend that physicians and radiologists consider the currently used Revised International Federation of Gynecology and Obstetrics (FIGO) Staging System for staging purposes. The imaging approach is similar to that for other histological types.
Cervical small cell carcinoma and ovarian carcinoid are the most common, and they usually behave aggressively. Ovarian carcinoids tend to behave in a benign fashion; when managing an ovarian carcinoid, factors such as extraovarian extension, bilaterality, and multinodularity should raise the suspicion of metastatic disease.
Endometrial NE tumors are very rare and are usually small cell carcinoma or adenocarcinoma with NE differentiation. Regarding other tumors, ultrasound, CT, PET/CT, and MRI remain the most commonly used imaging tools, but octreotide scans, which is a type of somatostatin analogue scintigraphy that assesses relevant receptor expression in vivo, may be useful for typical and atypical carcinoids. As a note, patients with negative octreotide scans should not be considered for somatostatin analogue therapy and typically show better responses to chemotherapy schemes, according to the researchers.
More specifically, when it comes to imaging, for the cervix, uterus, and adnexa, ultrasound using both transabdominal and transvaginal probes plays a crucial role in the initial diagnosis, and CT or PET/CT helps detect nodal and distant metastases.
MRI may be used to characterize indeterminate adnexal masses and for pretreatment staging purposes; it may also replace CT in the staging of adnexal tumors in young females and patients who are pregnant, have renal insufficiency, or are allergic to iodinated contrast. In the even rarer NE tumors of the vagina and vulva, MRI is also used for staging, along with CT.
For a more in-depth analysis of NE tumors, read Dias et al's article.