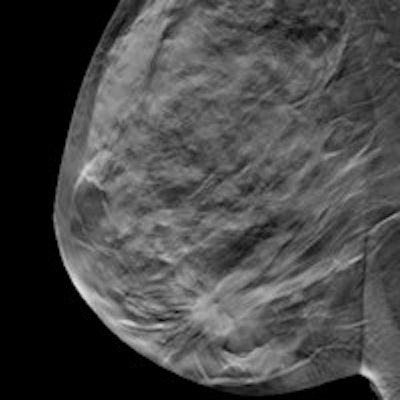 Digital breast tomosynthesis (DBT) is superior to conventional digital mammography when detecting breast cancer in women with dense breasts, according to research presented at this month's International Congress of Radiology (ICR 2014) in Dubai, United Arab Emirates. DBT also has an edge for the characterization of masses.
The evidence in support of DBT is mounting. Digital mammography is considered the most cost-effective screening method for breast cancer, but its sensitivity isn't ideal, and DBT is quickly proving itself to be a cut above.
Dr. Marwa Adel from Misr University for Science and Technology and Cairo Scan in Egypt fashioned two studies presented as e-posters at ICR 2014 to test DBT's mettle against digital mammography. In the first, Adel and colleagues compared breast cancer visibility in digital mammography with that of DBT, taking into consideration the density of glandular breast tissue in addition to the BI-RADS categories of the findings.
They included 139 women with 146 cancers on the basis of subtle signs of breast cancer on digital mammography. Subjective density ratings were determined and assigned while verifying case protocol. Breast tissue density was classified into one of four categories by the American College of Radiology (ACR) criteria:
1 = Almost entirely fatty (< 25% fibroglandular)
2 = Scattered fibroglandular densities (25% to 50% fibroglandular)
3 = Heterogeneously dense breast tissue (51% to 75% fibroglandular)
4 = Extremely dense breast tissue (> 75% fibroglandular)
The radiologists subjectively compared the suspicious findings found in the DBT examination with digital mammography images in the same view and with the same compression.
They found cancer visibility was ranked higher for DBT than for digital mammography in 76 cases (52%) and was equivalent in 49 cases (33.6%). When the high-density group (ACR 3 and 4) was examined in particular, the cancers were rated more visible in 51 cases (64.6%).
The radiologists also upgraded the BI-RADS classification in 54.4% of the high-density cases and 38.8% of the low-density cases. This led the researchers to conclude that DBT may have a higher sensitivity for breast cancer detection.
Second study arm
In the second study, DBT also had an edge when comparing image quality of masses, but not for microcalcifications when using cone-down magnification for digital mammography.
A total of 150 women with abnormal mammograms and 271 findings were included in this study. The women had definite imaging or a histopathological diagnosis, according to Adel and colleagues.
The findings were matched up to those of the ultrasound exams and/or histopathologic results. Also, concordance between the results was documented for each lesion to minimize the chance of sampling error, the researchers wrote in their e-poster.
DBT was rated as equivalent (52.8%) or superior (43.3%) to digital mammography in 96.1% of the total findings.
For masses, DBT image quality was rated as equivalent in 56% of cases. It was rated as superior to digital mammography in 34.6% (51 out of 148) of findings. Regarding calcifications, DBT was inferior to mammography in 56.8% (21 out of 37) of findings when using cone-down magnification with digital mammography.
As with the first study, DBT changed the BI-RADS categorization of some findings; in this instance, all findings categorized as BI-RADS 3 according to mammography were lowered when examined with tomosynthesis.
The digital mammography sensitivity was 81.5% compared with 86.7% for DBT.
"Our study concluded that the diagnostic performance of breast tomosynthesis is superior to that of digital mammography by assessing their image quality and their sensitivity values," the authors wrote.