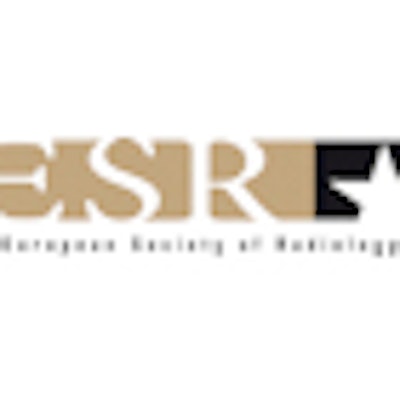 The medical school attended, plus the framework of its curriculum philosophy, will determine the scale and depth of an undergraduate medical student's teaching in radiology, according to a European Society of Radiology (ESR) survey of medical schools published online on 24 February in Insights into Imaging.
Students enrolled in medical schools in Europe using a contemporary curricula are exposed much sooner and more frequently to radiology as a subject on a continuous basis, are required to take a larger number of mandatory courses in radiology, and tend to gain more hands-on experience.
The ESR Education Committee obtained this information from a study it undertook in 2010. The committee sent an online questionnaire to all 430 heads of academic radiology departments in Europe. It obtained a response from 93 medical schools, or 22% of the total, representing 27 countries.
Results from the study reconfirmed an earlier survey conducted in 2008, which found that radiology teaching and research in Europe are affected by worldwide curriculum innovations in medical instruction: These innovations are moving toward a problem-based and outcomes-based curriculum and away from a more traditional science-based instruction focused on individually teaching clinical disciplines.
Problem-based curricula were introduced in medical schools about 50 to 60 years ago. The problem-based curricula incorporate the building blocks of disciplines such as anatomy, physiology, histology, internal medicine, surgery, radiology, pharmacology, and oncology. Instruction is based on comprehensive modules covering systems or parts of the body. Medical students are taught to understand different human systems, and diseases that a patient may have are introduced in subsequent years.
The problem-based curricula approach was subsequently modified to address outcomes. The importance of interprofessional, multidisciplinary education and the abolition of traditional boundaries between professional specialties are now emphasized for medical students enrolled in medical schools using the integrated approach.
Survey findings
The traditional science-based approach, teaching individual disciplines, assigns the study of radiology later in the academic program. Among the 93 medical schools that replied to the survey, respondents from 11 countries taught only the conventional curricula, respondents from six countries taught only the contemporary curricula, and responses from 10 countries were mixed. A total of 47 respondents taught a conventional curriculum and 46 taught a contemporary curriculum.
With both programs, radiology courses are a consistent part of the medical curriculum in every medical training year, with the exception of the first year in conventional training programs. Radiology courses are also mandatory for 87% of students enrolled in conventional programs, and for 70% in contemporary programs. The average amount of time that radiology was taught was 65 hours in a conventional curriculum, with a range of 20 to 120 hours. This average was similar for the conventional curriculum, at 63 hours, but with a much wider range of nine to 146 hours.
Respondents representing medical schools using contemporary programs tended to introduce their students to radiology in the first year, with radiology being a very important subject in the second and sixth year. This was not the case for conventional programs, which placed the greatest emphasis in the third, fourth, and fifth year of instruction.
Hands-on experience and the involvement of radiology-related teaching staff were considerably greater with a contemporary curriculum. An average of 15 teaching staff members was reported, compared with eight for the conventional curriculum. Radiology clerkships are mandatory versus elective, with both programs lasting four to five weeks. However, students taking contemporary curricula have more opportunities to participate in a multidisciplinary meeting (52% versus 26%) and/or attend a radiology conference (74% versus 47%).
In addition, while use of the Internet is popular in both types of curricula, use of educational radiology software is more prevalent in contemporary programs.
The ESR committee recommended that additional studies be conducted to obtain more information and in greater depth than provided by the current survey.