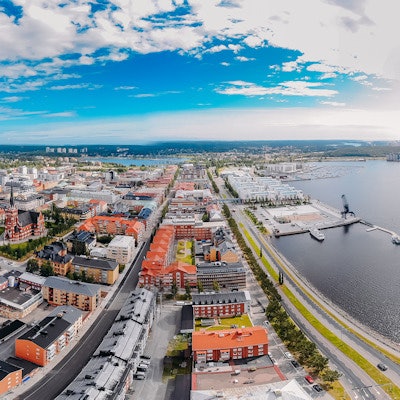 The company that owns and operates the mobile MRI scanner involved in last month's serious accident at Sunderby Hospital in Luleå, Swedish Lapland, has nearly finished its investigation, although the police inquest appears to be moving ahead less rapidly.
Aleris, which owns the equipment and the MR trailer itself and employs the injured specialist nurse, is conducting its own inquiry to find out exactly what happened.
"We are still working on our investigation regarding the accident. It will probably be delivered to the responsible authority by the end of next week," Henrik Kennedy, press officer at Aleris, told AuntMinnieEurope.com on 18 November. "We are still working to get the MRI scanner ready to get back in use."
Alongside this, the police investigation is also making steady progress. Peter Wallerström, an investigator at the police's environmental crime unit, said on 18 November that he is still waiting for the full forensic report and has not yet been able to talk with the specialist nurse, who has not been named but has reportedly made a full recovery and is keen to return to work.
Healthcare managers are working hard to get by without the mobile scanner, according to Emma Bergström Wuolo, press officer of the Norrbotten Region, formerly known as Norrbotten County Council and Sweden's northernmost region/county council.
"We don't use the trailer all the time; it's co-used by four different counties in the northern parts of Sweden," she said. "We only missed out on four scheduled days of use and that totals up to around 120 patients. Those patients have been contacted and some of them have had their examinations done with other scanners."
Setting priorities is based firmly on the medical need, as is always the case, she added.
The availability and accessibility of MRI services appear to vary quite widely throughout Sweden. A newspaper article published on 12 November reported on the growing waiting lists for MRI examinations in Ystad, a town in Skåne County on the country's southern coast. The report highlighted the case of a 66-year-old man who was told he had to wait 13 weeks for an MRI exam of his injured back, following an inconclusive x-ray. Staff at his local health center mentioned that queues were much shorter in nearby Trelleborg, and when he called them, he was given a slot five days later.
"Reallocating referrals to other radiology units with shorter wait times is quite common in Sweden, where reimbursement typically comes from the government," commented a radiologist from Stockholm.
Luleå, the coastal city at the center of Scandinavia's latest accident, is best known for the Gammelstad Church Town -- the stone-built Nederluleå Church and collection of wooden houses dating from the 1400s. Offshore, in the Bay of Bothnia, are more than 1,000 islands with beaches, cottages, and seals.