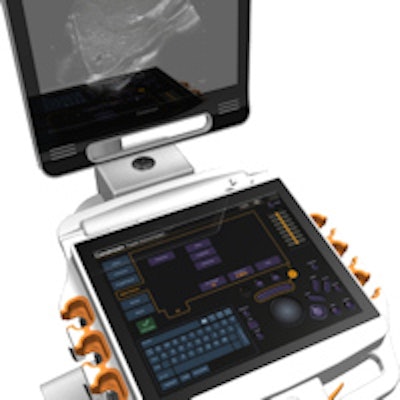 Carestream Health has roots in the x-ray film business, but the company sees ultrasound in its corporate future. The firm is entering the sonography market in a big way with Carestream Touch, a superpremium ultrasound system with a novel design that replaces the traditional scanner keyboard with a programmable touchscreen control panel.
The idea for Touch was born after Carestream's successful entry into the digital radiography (DR) market with its DRX line of systems, according to Andrew Hartmann, general manager of global x-ray solutions and ultrasound products. Carestream for decades was part of Eastman Kodak and had a heavy footprint in medical x-ray film, but the company successfully diversified into new segments such as imaging informatics and DR following its spin-off from Kodak in 2007.
Over the past several years, Carestream has been looking into new product lines to leverage its large global sales and service infrastructure. The most obvious targets are in the three largest radiology markets: x-ray, CT, and ultrasound, Hartmann said. Carestream is already a player in x-ray, while CT has high barriers to entry, as it's dominated by large multinational corporations with heavily patented technology portfolios.
That left ultrasound as the next logical choice. The company debated making an acquisition, a path taken by competitor Fujifilm Holdings, which entered the ultrasound market in 2012 with its purchase of SonoSite. But acquisitions can be difficult as well as expensive -- Fujifilm paid nearly $1 billion for SonoSite two years ago.
Instead, Carestream decided to develop its own ultrasound scanner, working with its own internal engineering talent, as well as through strategic relationships with component suppliers, Hartmann said. In fact, Carestream saw the opportunity to start with a clean slate and develop an ultrasound technology platform unencumbered by legacy systems and the demands of an installed base of customers.
"We have no legacy issues; we can start from a blank sheet of paper to build the perfect system," he said.
One problem in ultrasound that Carestream identified is the proliferation of scanners with user interfaces based on different technology platforms -- even within a single vendor's product line. This can make it difficult for customers from both a training and service standpoint.
"If you look at any manufacturer's lineup from high tier to value, there is not a system with a common transducer design or a common user interface across all the scanners," Hartmann said. "There is a mismatch of technology."
Carestream decided to build its ultrasound platform with the same imaging engine and the same user interface for all of its products. Customers will be able to move between scanners at different levels and enjoy the same user experience, while even specialty transducers can be plugged into any scanner. It's an approach the company has already adopted on its x-ray product line, Hartmann said.
Starting at the high end
Carestream Touch represents the first scanner in the new platform. The company deliberately chose to build a high-end system first and then scale it down to other systems at lower price points.
Touch's primary point of differentiation is its buttonless touchscreen interface, based on a 19-inch display that occupies the space where a physical keyboard usually goes. Scanner controls that are more commonly used are etched into the glass, but the rest of the screen is customizable. Images are viewed on a second, vertical display, as with traditional scanner designs.
Another benefit of the design is that it literally is a clean slate. The display is sealed and can be wiped off and cleaned in a few seconds, an important consideration in interventional environments.
Finally, another differentiating feature of Touch is its simplified internal architecture, which uses a single board based on graphics processing unit (GPU) technology, rather than multiple boards using central processing units (CPUs), as found on traditional scanners. CPU-based scanners can require multiple boards, connectors, and cables, which can create reliability problems, Hartmann said.
The GPU-based design enables Touch's four active transducers to be mounted directly on the core ultrasound board, according to Hartmann. In another innovation, Carestream developed transducer technology that enables probes to be activated with a push of a button at the transducer, rather than requiring users to interface with the cart. The system itself can be booted up in 18 seconds.
Carestream is targeting a range of radiology clinical indications for the scanner, including abdominal, musculoskeletal, fetal and gynecological, peripheral vascular, cerebrovascular, superficial and small parts, and neonatal/pediatric imaging.
Carestream already has U.S. Food and Drug Administration (FDA) clearance of the core technology behind Touch, which will be available in two models with different levels of functionality. The firm estimates that the system will be launched on the U.S. market in the third quarter of 2015, and Carestream plans to make Touch a highlight in its booth at RSNA 2014.