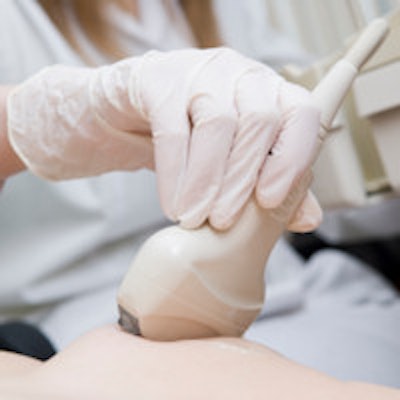 Growth in point-of-care applications, workhorse solutions, and cost-efficiency dominate trends in the ultrasound market. However, premium systems, those sold for more than 100,000 euros, still have a key place in the market. Advances in technology mean that these systems now offer image quality and clinical outcomes to rival the more advanced solutions of x-ray, MRI, and CT. However, in an increasingly cost-sensitive market what does the future hold for premium ultrasound systems?
Over the past three years, the ultrasound market has become increasingly segmented. More than 20 distinct clinical applications now exist in the market and new technology developments are clearly focused on individual applications. With much discussion on improving cost-efficiencies, the premium segment can be overlooked, but the segment is still of great importance in many hospitals.
A key trend in the last three years has been the migration of advanced ultrasound features down to lower price brackets. Technology such as elastography, matrix transducers, and fusion technology remain firmly in the premium category and have the ability to significantly improve clinical outcomes. However, this technology comes at a price.
Despite concerns that these features are less attractive to purchasers in an increasingly cost-sensitive market, developments in 2014 still saw a focus on advanced features, signaling their importance in the global market.
Elastography shows promise for improving clinical outcomes in numerous applications. The technology has seen strong investment over the last 18 months as suppliers strived to develop a reproducible methodology. Whilst advances have been made, the technology still requires further refining for widespread use. Nevertheless, elastography has been shown to improve clinical outcomes in obstetrics and gynecology (ob/gyn), breast imaging, and imaging of the liver.
In ob/gyn, interest is owed to the benefits of assessing the risk of preterm labor and imaging of the cervix. In addition, this technology holds promise for improved breast cancer screening in dense breast tissue and the ability to "type" cancer. Lastly, the increasing incidence of liver disease has seen increased use of elastography in diagnosis.
A number of manufacturers now offer advanced systems with elastography including GE Healthcare, Philips Healthcare, Toshiba Medical Systems, Hitachi Aloka, and Siemens Healthcare.
The high cost of matrix transducers means they are typically found on premium systems and are most commonly used in cardiology applications. Matrix transducers provide improved imaging in transoesophageal echocardiogram (TEE) and 4D imaging. The increasing specificity in newer applications has provided a new avenue for this technology specifically in its use in interventional cardiology.
The use of ultrasound in interventional procedures significantly improves workflow, well-being of the patient, and helps reduce costs. The high image-resolution from the use of matrix transducers is projected to impact this market as ultrasound is used for more advanced and complicated interventional procedures.
Fusion ultrasound systems also are gaining interest. The use of ultrasound in conjunction with MRI and CT images improves diagnostic outcomes. Furthermore, growing interest in minimally invasive procedures has resulted in strong growth in the interventional ultrasound market. Advances in new software and connectivity to advanced visualization tools have streamlined fusion technology for radiologist's further driving adoption. This technology is projected to be one of the most important advances in premium ultrasound equipment over the next five years.
Despite the high cost of premium ultrasound systems, the advanced features in these systems are not only important for some traditional application such as ob/gyn and cardiology, but perhaps more importantly for the newer applications of breast imaging, interventional cardiology, and internal medicine. Commoditization is starting to occur in the core of the ultrasound market with many traditional specialties using midrange and high-end systems as a valuable standard in many disciplines.
The premium segment is predicted to lead innovation not only in the ultrasound market, but in the overall medical imaging market. As cost is a key factor in many medical imaging markets, the increased price pressure may actually act as a positive for the premium ultrasound market, increasing interest in lower-cost imaging modalities and driving innovation.
Nicola Goatman is a senior analyst with IHS Medical Technology. IHS Medical Technology provides high-quality and in-depth market research and consultancy services to the medical device industry. Coverage includes medical imaging equipment, clinical care devices, healthcare IT, consumer medical devices, medical displays, and wearable technologies.
Originally published in ECR Today on 4 March 2015.
Copyright © 2015 European Society of Radiology