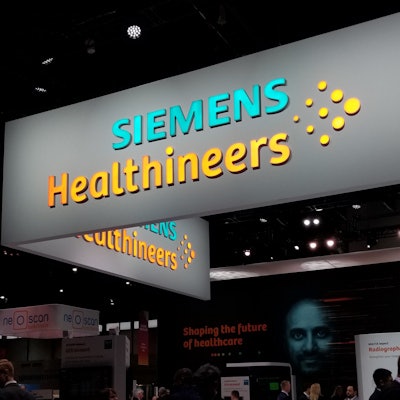 Siemens Healthineers is pondering the divestiture of its ultrasound division in a deal that could be worth up to $1 billion, according to an article by financial news network Bloomberg.
The article did not provide a rationale for the transaction, but it noted that Siemens Healthineers is "weighing its options" for the ultrasound business after getting "expressions of interest" for the division. The Bloomberg article said that potential bidders for the business could either be private equity or "strategic" investors.
The article quoted from Siemens Healthineers' annual report for 2020, in which the company said that its ultrasound business "declined moderately" in the company's fiscal year 2020, which was heavily affected by the COVID-19 pandemic. There was an increase in the use of point-of-care ultrasound to diagnose and monitor COVID‑19 patients, but this could not outweigh "strong declines" in other segments of the ultrasound market.
A representative with Siemens Healthineers declined to comment on the Bloomberg article, instead stating that the company is focusing on its five-year strategic plan.
"Please understand that we don't comment on market rumors," the spokesperson said. "The central aim of the Siemens Healthineers Strategy 2025 is to secure our market leadership beyond 2025."
As a backdrop to the deal, Siemens Healthineers is in the midst of acquiring radiation therapy vendor Varian Medical Systems in one of the largest healthcare deals of the year. The acquisition is expected to be completed in the first half of 2021.
The divestiture would end Siemens' long history in the ultrasound business, which began in Issaquah, WA, in 1993. The company dramatically boosted its profile in the segment in 2000 when it acquired Acuson, a California-based developer of superpremium scanners. Siemens announced last year that it was moving its global ultrasound headquarters from Mountain View, CA, where Acuson had been located, back to Issaquah.