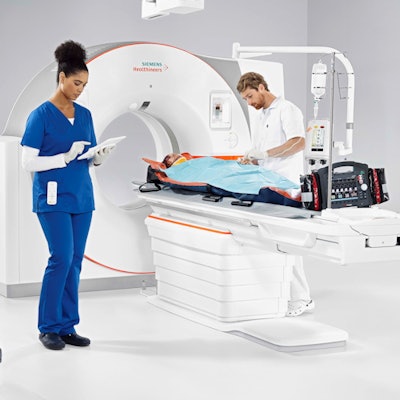 Siemens Healthineers is adding to its CT product line by launching Somatom X.ceed, a new scanner that's a more powerful version of the Somatom X.cite system that the company launched in 2019. The new system is optimized for emergency, cardiac, and interventional use, but it can also perform all-around imaging.
Siemens debuted a variety of artificial intelligence-based technologies that are designed to help users set up and perform imaging exams when it launched Somatom X.cite at the RSNA 2019 meeting. The new Somatom X.ceed system takes those technologies and bundles them into a more powerful CT platform, according to Jesus Fernandez Leon, global product manager for CT marketing at Siemens.
For example, both systems use myExam Companion to guide users through diagnostic imaging procedures, but the X.ceed system now includes myNeedle Companion, an application that supports targeted needle path planning and laser-guided needle insertion for interventional procedures.
Both systems also include tablet computers that enable technologists to control the scanner's operation remotely, whether they are in the scanning room or the console room. Many technologists have found the tablet controls useful during the COVID-19 pandemic, Fernandez Leon said.
Like X.cite, X.ceed also sports a wide 82-cm gantry. But the new scanner has a faster gantry rotation time -- at 0.25 seconds per rotation -- and a more powerful x-ray tube, at 120 kW. The scanner's tablet has also been upgraded to the iPad platform.
X.ceed supports dual-energy spectral imaging, as does the X.cite system, but Siemens has broadened the spectral field of view to 50 cm, compared with 42.5 cm on X.cite. This will give X.ceed users more flexibility in using spectral imaging, according to Fernandez Leon.
Siemens has applied for 510(k) clearance for X.ceed, and the company expects full clearance for the scanner and myNeedle Companion by RSNA 2021. The CE Mark for Europe is expected by the end of summer.
Somatom X.ceed will be marketed globally, but the company expects an initial emphasis on Europe and the U.S., with sales in China and Asia-Pacific to follow.