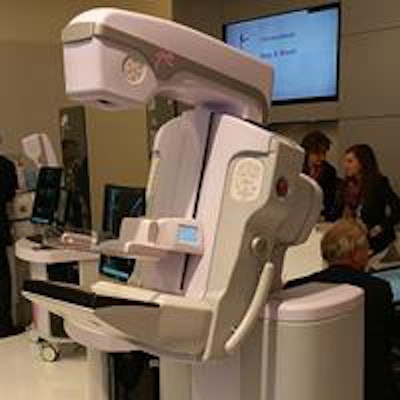 Italian women's imaging vendor Internazionale Medica Scientifica (IMS) has developed a new flagship mammography system, called Giotto Class. The device was displayed at ECR 2015 and supports digital breast tomosynthesis (DBT), and will be launched in the next few months.
IMS plans to position Giotto Class as a versatile system that can support 2D mammography, DBT, and biopsy procedures, including tomo-based biopsy. The firm sees biopsy in particular as a niche, with Giotto Class supporting both tomo and stereotactic biopsies, and with patients positioned in either the prone or supine position.
IMS currently addresses the tomosynthesis market niche in Europe with its Giotto Tomo unit, but the company wanted to develop a system that was more optimized for breast biopsy. Giotto in particular has a reputation for its prone biopsy technology, according to the firm, and Giotto Class is compatible with all biopsy systems currently on the market, providing 360° biopsy access with both lateral and craniocaudal approaches.
Giotto Class builds on the same amorphous selenium-based digital detector technology found on Giotto Tomo, with a pixel pitch of 85 microns. In tomosynthesis mode, it acquires images in a step-and-shoot mode with a 30° angle with only 11 exposures required.
The system will also support synthetic 2D mammography, in which 2D images are created from 3D tomosynthesis datasets. This approach obviates the requirement for some clinical applications like screening that a conventional mammogram be acquired along with a tomo image.
IMS plans to begin selling the system in Europe by the end of May or early June, after receiving the CE Mark. The company would like to also market the system in the U.S., but must complete a clinical trial to support an application with the U.S. Food and Drug Administration (FDA).