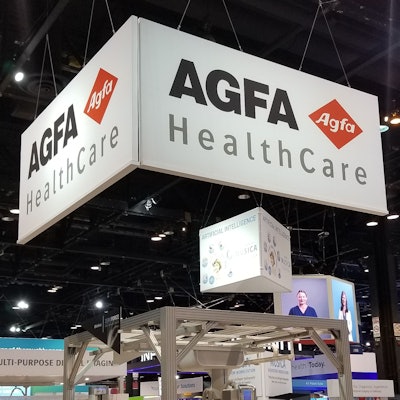 Agfa HealthCare plans to showcase products in its artificial intelligence (AI) and digital radiography (DR) portfolio at France's national radiology congress (JFR), which begins on 11 October in Paris.
Company highlights include the Musica Nerve Center acquisition workstation, which is powered by AI and deep learning for enhanced operational efficiency and features a single, intuitive interface for DR imaging.
Agfa's DR systems range from entry-level mobile units to advanced, multipurpose, automated x-ray rooms, designed for enhanced image quality and low radiation dose exposure to patients and staff. The mobile DR 100e can be moved down narrow corridors for both bedside and intensive care unit (ICU) imaging. It also features Musica image processing software for improved productivity.
Also at JFR 2019 will be SE Suite, a diagnostic multimodality workstation for the manipulation, archiving, and distribution of medical imaging data. It offers an intuitive screen layout for navigation between images and studies, and the workstation can be tailored for single- or multiuser environments, including those that require a specific workflow, such as mammography screening and orthopedics. according to the vendor.