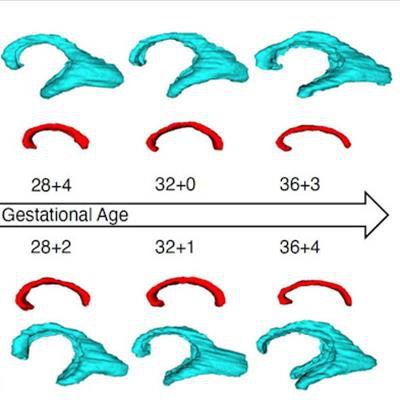 Fetuses exposed to alcohol show altered brain structures on MRI compared with healthy counterparts, according to a study presented December 1 by Austrian researchers at the RSNA 2021 meeting.
The study authors conducted what they say is the first MRI study to investigate prenatal alcohol exposure. They found that fetuses exposed to alcohol had increased volume in the corpus callosum and a decreased volume in the periventricular zone in fetuses.
"The changes found in the periventricular zone, where all neurons are born, also reflect a global effect on brain development and function," said study co-author Dr. Marlene Stuempflen of the Medical University of Vienna in a statement released by the RSNA.
Fetal alcohol syndrome can have severe deleterious effects on babies, including learning disabilities, behavioral problems, and delays in speech and language development, according to lead author Dr. Gregor Kasprian, also of the university.
"Fetal alcohol syndrome is a worldwide problem in countries where alcohol is freely available," he said in the RSNA statement. "It's estimated that 9.8% of all pregnant women are consuming alcohol during pregnancy, and that number is likely underestimated."
Although there have been postnatal studies on the effect alcohol has on babies, there have been few studies that explore its effect on fetuses, the investigators noted. They conducted a study that initially included 500 pregnant women referred for fetal MRI for clinical reasons and invited them to fill out an anonymous questionnaire about their alcohol consumption during pregnancy.
Of the 500 women, 51 admitted to drinking during their pregnancy. After excluding exams with structural brain anomalies or poor image quality, Kasprian and colleagues put together a final study group that included 26 fetal MRI exams from 24 alcohol-positive fetuses and a control set of 52 gender- and age-matched fetuses not exposed to alcohol. Fetal age at time of imaging ranged from 20 to 37 weeks.
The study demonstrated two significant differences between the fetuses exposed to alcohol and the healthy controls: increased volume in the corpus callosum and a decreased volume in the periventricular zone. The thicker corpus callosum was an unexpected finding, since "the corpus callosum is thinner in infants with fetal alcohol spectrum disorders," the RSNA said.
"It appears that alcohol exposure during pregnancy puts the brain on a path of development that diverges from a normal trajectory," Kasprian said.
The team's findings highlight the need to support pregnant women and their families, the researchers wrote.
"[This] prenatal imaging ... emphasizes the socioeconomic importance of prevention, detection, and support of affected families," they concluded.