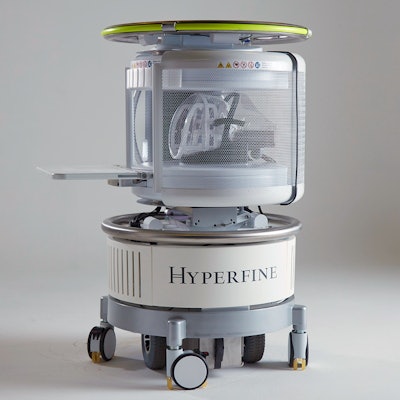 Portable MRI developer Hyperfine has secured a $3.3 million (2.8 million euro) grant from the Bill & Melinda Gates Foundation to expand a current research initiative exploring the utility of its portable MRI technology in developing countries.
The grant will be used to broaden an ongoing global research program to assess the clinical feasibility of the vendor's Swoop portable MRI system in providing immediate point-of-care brain imaging to young children between the ages of 0-24 months in low-and middle-income countries, Hyperfine said. The research program was initially funded in November 2020 by a $1.6 million (1.4 million euro) grant from the Bill & Melinda Gates Foundation to investigate if Hyperfine's portable MRI technology could identify and potentially mitigate labor- and delivery-related brain damage resulting in hypoxic-ischemic encephalopathy in infants.
As part of the program's expansion, Hyperfine said it's now deploying 25 Swoop systems across multiple research and clinical study sites in Europe, Asia, and sub-Saharan Africa. This effort will aim to better understand the value of low-field MRI in delivering accessible neuroimages that could enable early therapeutic interventions -- and potentially become the standard of care -- for infants and children during critical developmental stages, according to the company.
In addition, Hyperfine will also establish and coordinate a point-of-care MRI consortium that will optimize Swoop's image acquisition protocols and data quality for neonatal and infant brain imaging. Data will be generated and shared from a range of settings.
MRI research centers will develop and optimize sequences, while neonatal and pediatric brain imaging clinical centers will evaluate the system's data quality and information content relative to the reference standard of high-field MRI, according to the company.