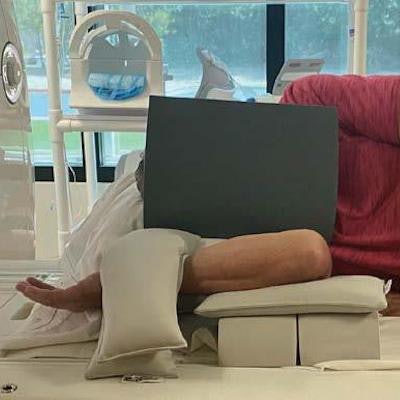 A new view called flexed elbow valgus external rotation (FEVER) improves MRI's ability to evaluate the ulnar collateral ligament in Major League Baseball (MLB) pitchers, according to a study published June 4 in the American Journal of Roentgenology.
Pitchers are vulnerable to ulnar collateral ligament (UCL) injuries due to repetitive throwing motions, a team led by Dr. Pamela Lund of SimonMed Imaging in Las Vegas wrote. But standard MRI positioning for the elbow is often suboptimal for visualizing the UCL.
Lund and colleagues -- including Arizona Diamondbacks team physician Dr. Gary Waslewski -- evaluated the effect that using FEVER view on MRI scans would have on ulnotrochlear joint space measurement.
The study included 44 MLB pitchers who underwent standard elbow MRI and a FEVER sequence. The researchers found that the FEVER view protocol increased ulnotrochlear joint space width and confidence in three of five UCL-related findings.
"The [results] support the FEVER view as a practical addition to standard elbow MRI protocols for achieving elbow valgus stress in throwing athletes, thereby providing functional information to complement the high-resolution anatomic assessment provided by MRI," Lund and colleagues concluded.