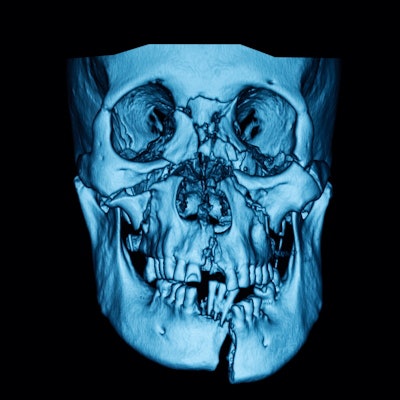 Approximately 90% of dental injuries in trauma patients who undergo whole-body CT scans are not described on initial radiology reports, according to a study published on 15 March in the European Journal of Trauma and Emergency Surgery.
The accurate diagnosis of dental trauma injuries is vital for treatment planning and to ensure the best possible outcomes for patients, according to the authors.
"Radiologists need to pay more attention to findings of the teeth in trauma patients due to its high frequency," wrote the group, led by Dr. Hans-Jonas Meyer of the department of diagnostic and interventional radiology at the University of Leipzig in Germany.
Dental injury is one of the most common facial traumas, and the incidence of dental injury is approximately 13% in trauma patients with maxillofacial fractures, the authors noted. Despite this, radiologists tend to overlook relevant findings involving teeth because they are challenged to view numerous images over a short period of time and to describe the most serious injuries first.
After more serious injuries are reviewed, radiologists should reassess CT scans for signs of dental trauma, according to Meyer and colleagues. Otherwise, dentists may not learn of tooth-related injuries.
For the current study, the researchers screened a university hospital's imaging database for whole-body trauma CT scans completed between 2006 and 2018, identifying 994 CT scans. Cases of isolated maxillofacial trauma were not included.
A radiologist with seven years of experience reanalyzed the scans for possible dental trauma findings. The images were evaluated using 3D reconstructions, and the radiologist and a consultant radiologist with 17 years of experience reached a consensus on any cases that were unclear.
Radiologists did not describe about 88% of dental injuries in their original imaging reports, the researchers found. Of the 994 whole-body CT scans, 127 (12.8%) were found to show dental injuries upon reevaluation. Only 15 of the dental injuries (11.8%) were noted in the initial radiology reports.
Dental injuries initially reported by radiologists involved patients who had severe trauma associated with adjacent bone fractures, possibly because such injuries are easier to detect, the authors wrote.
The most common findings were dislodged teeth and fractured crowns, which occurred in 49 and 46 patients, respectively. Other findings included root fractures, extrusions, and intrusions.
Limitations of the study included the fact that it was retrospective with possible inherent bias. To reduce potential bias, the CT scans were evaluated without clinical information and blinded to the radiological and clinical reports. The exact age of dental trauma findings cannot be determined through CT, however, so there may be a bias of preexisting dental injuries, the authors wrote.
Nevertheless, "radiologists reporting whole-body trauma CT should be aware of possible dental trauma to report the findings adequately," Meyer and colleagues concluded.