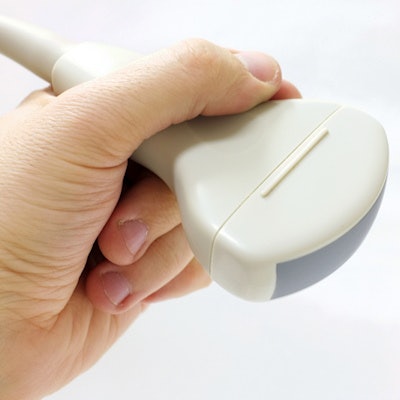 Researchers from Italy have created protocols for performing lung ultrasonography on patients with COVID-19. Their list of four brief acquisition protocols was published in a clinical letter on 20 March in the Journal of Ultrasound in Medicine.
The protocols outline the best probe to use, where clinicians should look for artifacts, where to set the focus, and how to visualize the widest surface possible with one scan. The authors reported that hospital staff in Germany have asked to implement the protocols and that they are training doctors in Rome on their techniques.
"For the first time, the scientific validity of the technique we proposed is accepted," stated Paolo Giorgini, PhD, director of a computer science laboratory at the University of Trento that helped come up with the protocols. "We hope our work can help tackle the pandemic."
While CT has excellent ability to detect COVID-19, the modality can't be used at patients' bedsides and it puts additional medical staff at risk for virus exposure. As a result, some doctors in China, Spain, and Italy have turned to lung ultrasound as an alternative imaging modality.
Patients with COVID-19 develop thickened pleura, B-lines, subpleural consolidations, and other hallmark lung ultrasound artifacts that can help doctors identify and track the progression of the disease. However, given limited time and resources, there haven't been many publications that clarify how to best use lung ultrasound to make a diagnosis of COVID-19 and guide patient treatment.
In the absence of other research on the topic, lead author Dr. Gino Soldati from the ultrasound unit at Valle del Serchio General Hospital in Lucca, Italy, and colleagues developed their own guidelines. Their set of four acquisition protocols for lung ultrasonography on patients with COVID-19 is as follows:
Ideally, use linear probes, as these can best capture the detail of pleural and subpleural artifacts. Convex probes are also appropriate.
Use a single focal point modality at the pleural line instead of focusing at multiple locations.
Scans should preferably be performed in intercostal spaces, as opposed to an orthogonal view of the ribs. This enables clinicians to see the widest surface possible with one scan.
Look for artifacts in multiple areas and bilaterally to see the extent of the affected lung surface.
Specifically, the authors recommended looking for artifacts in the following areas on both the right and left sides of patients:
Anterior midclavicular: apical, medial, and basal
Posterior paraspinal: apical, medial, and basal
Lateral axillary: apical and basal
The researchers also mentioned that lung ultrasound can be used for triaging patients before hospital admission, monitoring emergency department patients with pneumonia, managing ventilation and weaning for intensive care unit patients, and evaluating the effects of antiviral medications. This is because ultrasound can identify changes in the ratio between air, tissue, and fluid in the lungs of patients with COVID-19.
The authors cautioned their protocol is only a suggestion and that more studies will be needed to confirm their findings -- especially research that compares lung ultrasound scans to other imaging modalities.
"Comparison with chest x-ray and/or lung CT scan might help [in] designing a proper diagnostic workup according to the general and local technological and human resources," they concluded.