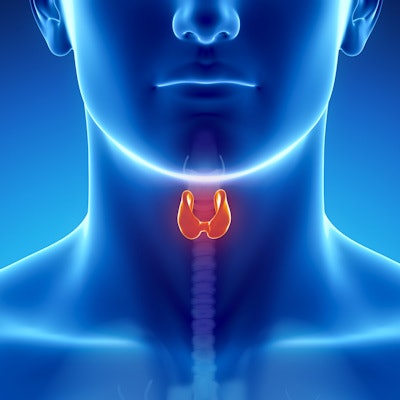 Radiofrequency (RF) ablation guided by ultrasound is a safe and effective alternative to surgery in clinically relevant benign thyroid nodules, particularly in the right hands, according to award-winning researchers from Spain who have given technical tips to improve the results of RF ablation.
"Benign thyroid nodules are very common, but their treatment is mainly justified if they become symptomatic or cause cosmetic alterations," noted Dr. José Miguel Escudero-Fernández and colleagues from the Interventional Ultrasound Unit (headed by Dr. Xavier Serres i Créixams) at Vall d'Hebron University Hospital, Barcelona. "There are several important anatomic structures in the thyroid region to consider during RF ablation. The trans-isthmic approach, moving-shot technique, and contrast-enhanced ultrasound improve results."
The greatest volume reduction is observed after six months of follow-up, and the main variable that predicts a better outcome after six months of follow-up is the greater percentage of cystic portion, they added. Antibody levels and values do not change after RF ablation, and in most patients with hyperfunctioning nodules, hormonal indicators were normalized after the procedure.
In a digital poster that won a certificate of merit at RSNA 2019, the authors described how they perform RF ablation. They also sought to evaluate the usefulness of contrast-enhanced ultrasonography (CEUS) during RF ablation, assess the value of elastography in the management of nodules, and determine the effects of RF ablation on the immune system.
Optimum technique
Before RF ablation, it is important to investigate the characteristics of the nodule, including the location, size, and predominance of solid and cystic components. If nodules prove to be benign (Bethesda II) after two separate fine-needle aspiration biopsies (FNABs) and coagulation tests are normal, the procedure can go ahead. Evaluation of vocal cord functionality using a laryngoscope and/or ultrasound is also necessary.
The Barcelona group uses high-frequency alternating current produced by a radiofrequency generator oscillating in a closed loop circuit. This current heats the tissue around the needle to temperatures between 60° C and 100° C (140° F and 212° F), which causes coagulative necrosis and irreversible damage into the surrounding tissue. During the procedure, the needle is internally cooled.
The length of the active tip can be 5 mm, 7 mm, or 10 mm. Also, a decision must be made on the power and length of the procedure, the diameter of the ablation sphere, and the distance of the needle to the nodule capsule. Escudero-Fernández and colleagues prefer an initial power of 35 W to 40 W, rising in increments of 5 W to 10 W until the transient hyperechoic vapor zone appears, and a maximum power of 55 W to 60 W.
Overall, the aim is to achieve better definition of cervical landmarks and avoid important structures. The nodule is divided into three to five segments along the craniocaudal axis, and each of these segments is subdivided into two or three transversal portions.
In theory, moving shots create a cylindrical effect in the RF ablation, but, in real cases, backward movement is based on step-by-step intervals that create a beaded cone-shaped cylinder, they explained. CEUS is performed before removing the needle from the nodule, and this defines triangular zones at the periphery without ablation and allows completion of the treatment. It is essential to prevent the needle or the electrode from moving when the patient swallows or talks.
Study findings
The researchers conducted a retrospective study from 2013 to 2018. It involved 99 patients from Vall d'Hebron Hospital and Teknon Medical Center in Barcelona who presented with clinically relevant thyroid nodules that proved to be benign in two consecutive FNABs. The results are shown in the table.
Results of retrospective study involving 99 patients
Sex (% female)
80.8
Age (mean ± standard deviation)
49.8 ± 10.7
Symptomatic score
7.5 ± 2.3
Cosmetic grade score
3.4 ± 1.3
Cytology (% Bethesda II)
100
Hyperfunctioning nodules (%)
8
Nodule volume (mL)
18.5
Solid part > 50%
67.4
Solid part 20% to 50%
6.5
Solid part < 20%
26.1
Margins (% well-circumscribed)
52.9
Echogenicity (% hyperechogenic)
47
Vascularity (% peripheral)
41.2
Calcifications (%)
0
Each patient's clinical features allowed the authors to work out a symptomatic score using a 10-cm visual analog scale (0-10) and a cosmetic grading score (1 = no palpable mass, 2 = no cosmetic problem but a palpable mass, 3 = a cosmetic problem on swallowing only, and 4 = an easily detected cosmetic problem).
The analytical features were thyroid hormones and antibodies and coagulation status, while the radiological features were size, margins, proportion of the solid and cystic portions, echogenicity, vascularity, and the presence of calcifications. Clinical and radiological follow-up took place at one, three, six, and 12 months after RF ablation.
None of the demographic, clinical, and radiological features significantly predicted the success of RF ablation, except the major percentage of cystic portion at diagnosis, they wrote. They observed normalization of thyroid function in 87.5% of patients with hyperfunctioning nodules treated with RF ablation, and no significant differences in antithyroglobulin and antithyroid peroxidase antibodies were observed before and after RF ablation.
The percentage of volume reduction was 50% at six months and 80% at 12 months. However, there was important variability between studies: 51% to 92% at 12 months.
"Elastography performed in several of our patients after RF ablation shows that there was an important component of fibrosis during the follow-up," the authors pointed out.
Also, they observed that the usefulness of ethanol ablation in solid-cystic nodules has reemerged with the introduction of RF ablation.