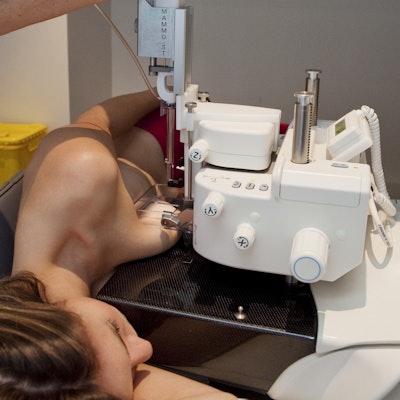 For a woman with a breast lump, biopsy is usually undertaken in those over the age of 25. However, the limit could probably be extended to 35 years without having a substantial effect on diagnostic accuracy, if certain criteria were adopted, according to an experienced clinical radiologist from the U.K.
Breast masses in young women are relatively common, and the current procedure is to biopsy women older than the age of 25 when a mass has been identified -- usually on a prior ultrasound scan, explained Dr. Christopher Loughran, a consultant radiologist at Macclesfield District General Hospital, near Manchester. However, the vast majority (88 of 101 patients in Loughran's latest study) prove to be benign, commonly fibroadenomas.
"Breast biopsy patients are apprehensive, and pain and hemorrhage are not infrequent -- even in the best hands. There is a cost both in professional time, clinic facility, and disposable items, etc.," he told delegates at the 2019 UK Imaging & Oncology Congress (UKIO) in Liverpool. "A reliable means of distinguishing benign from malignant lesion based on scan appearances would be safer and reduce cost."
Length, thickness of masses
Loughran's impression was that longer and thinner breast masses were almost certainly benign, whereas the diagnosis was less certain with more rounded masses. This prompted him to conduct a retrospective study, recording the length and width of breast masses to determine whether the ratio could provide additional diagnostic guidance on the need for biopsy.
He reviewed 101 patients age 35 years or younger who had undergone ultrasound-guided breast core biopsy over a four-year period. The length and width of biopsied masses (recorded from images) and the ratio of length versus width of these masses were recorded. This information was easily evaluated using the calculator on a smartphone.
Loughran also correlated the ultrasound grade of suspicion (1 = normal, 2 = benign, 3 = probably benign, 4 = probably malignant, 5 = malignant) with the length-versus-width ratio. The data were later correlated with the histology.
Of the 101 patients, 13 had breast malignancy, with 11 of the masses (83%) having a length-versus-width ratio of 1.5 or less. With fibroadenomas, only seven of 58 (15%) patients had a ratio of 1.5 or less.
In the 13 patients with carcinoma, only two had a ratio of greater than 2, and one of these was independently assessed as a malignant mass (U5) by adopting other criteria. One malignancy had a ratio greater than 2, but the mass was considered likely to be benign (U2). This was a case of tumor recurrence involving a 33-year-old woman who had had a lump in the left breast for two weeks and intermittent left nipple inversion for several years. Seven of the malignancies had a grading of U4 or U5, and 11 (85%) had a length versus width ratio of 1.5 or less.
Benign changes – Fibroadenomata
Ratio
Numbers
0-1
2
1.1-1.5
7
1.6-2.0
28
2.1-2.5
17
2.6-3.0
1
3.1-4.0
3
> 4.0
0
U grade
Numbers
2
39
3
20
How oval is oval?
Oval masses are well-recognized to more likely be benign, but Loughran asked, "How oval is oval?" An objective means of measuring the degree of "ovalness" may help more confidently determine those who require biopsy. An estimation of the degree of ovalness can be measured by establishing the ratio of length versus width in each mass, he told UKIO attendees.
"In general, the more rounded a mass, the more malignancy is likely. The more oval a lesion, the abnormality is more likely to be benign," Loughran stated. "However, other diagnostic criteria, including the nature of the lesional wall (smooth, poorly defined, lobulated, etc.) and the echo characteristics may further qualify the nature of the lesion."
If a ratio of 1.5 or less had been adopted in this series, two cancers would have been missed, but both were atypical in other respects, and biopsy would have been undertaken in any event.
"The ratio is only contributory to the assessment of a mass, and if other features suggest possible malignancy, then biopsy is mandatory. The length-versus-width ratio of a breast mass in the younger woman is a measure of the oval nature of a mass," he continued.
If a ratio of 2.0 or more had been adopted in conjunction with a benign U2 grading, then in this series of 101 patients over a four-year period, 26 biopsies could have been avoided and only one breast carcinoma -- an area of disease recurrence -- would have remained undetected (this case displayed atypical features).
Consideration of adopting this simple measure into lesional evaluation should facilitate a safe reduction in biopsy rates, according to Loughran.
Early work on radiographer reporting
Loughran qualified as a radiologist in Liverpool in 1976, and after a two-year stint as consultant at Broadgreen Hospital in Liverpool, he became assistant professor in the Medical University of South Carolina in Charleston, U.S. He has worked at Macclesfield since 1986, having been clinical director, postgraduate tutor, associate medical director, and chairman of the Medical Staff Committee.
Loughran generated considerable interest in January 2015, when he published a blog for the British Institute of Radiology about skill mix in radiology and the benefits of trained radiographers reporting trauma radiology. He wrote about his research from the 1990s and how he was "accused of committing professional suicide," but he was on a "mission to spread the word."
"The aim was to determine if the diagnostic performance of the radiographers in trauma radiology could be enhanced with training, to such an extent that they could report such radiographs to a high standard. We showed that they could and the research findings were subsequently published in the BJR (in 1994)," he noted.
Loughran took the plunge even before the article was published, and with the backing of the East Cheshire National Health Service Trust, radiographers started to report directly to the accident department.
"I believe we were the first in the country to do this," he continued. "It fulfilled my belief that radiographers could employ their talents to a greater extent -- for the benefit of the department; the hospital, in general; and, of course, the patients."
This experience taught Loughran that it's not only the truth that matters but also the diligence with which it is pursued. "If you believe in something keep going! As Edward Bulwer-Lytton put it, 'Enthusiasm is the genius of sincerity, and truth accomplishes no victories without it,' " he said.