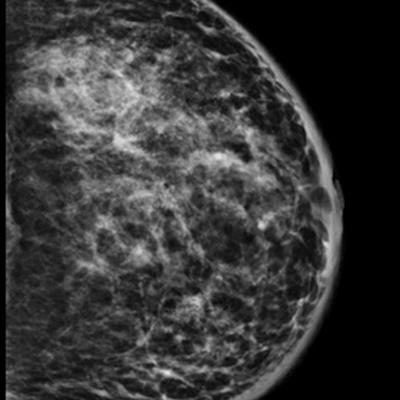 Increasing numbers of women under 35 are being referred to symptomatic breast clinics (SBCs), resulting in greater demand for imaging services, despite unchanged and low incidence of breast cancer within this age group, researchers from Dublin have reported.
A 44% increase in attendance occurred at the SBC in St James's Hospital between 2018 and 2021, according to Dr. Molly Godson Treacy and Dr. Sylvia O'Keeffe. Half of the patients with a cancer diagnosis were referred with a "likely benign" examination score, and thus clinical exams have a low sensitivity in this age group.
"The reason for the increase in referrals to SBCs is unclear and requires further investigation," they noted in an e-poster presentation at ECR 2023 in Vienna.
Women under the age of 35 account for a small number of breast cancer diagnoses -- with an approximate incidence of 1.8% of all breast cancer diagnoses -- but the incidence of breast cancer diagnosis in young women is rising at a faster rate than in other age categories, the duo explained. Also, breast cancer in young women is known to be associated with more aggressive disease and inferior outcomes, hence the need for early diagnosis and treatment.
"Significantly, benign breast disease is also common in this pre-menopausal age group.
Reports suggest an increasing number of young women are attending clinics with breast symptoms, which presents a diagnostic challenge," they added.
Study details
The aim of their study was to review the cases of young women attending an SBC in a tertiary referral center and to analyze their outcomes, including the results of clinical assessment, radiological findings, and breast cancer incidence.
Godson Treacy, who now works as a researcher at Trinity College Dublin, and O'Keeffe, who has worked as a consultant radiologist in St James's Hospital since 2010 and is a member of the National Cancer Control Programme, acquired data from an existing cancer database within the breast department of St. James's over a four-year period.
Men were excluded, as were women attending via a family/high-risk clinic. They studied the number of patient attendances by year, the age at time of attendance at the SBC, and the clinical examination score.
The clinical examination score corresponded to the malignancy suspicion: E1 = normal, E2 = benign, E3 = uncertain/likely benign, E4 = suspicion of malignancy, E5 = malignant. Once all the data were collected, the researchers looked for a percentage increase in attendance across the four-year period and the incidence of malignancy in the corresponding years, and then they analyzed the average exam score of those patients diagnosed with breast cancer.
A total of 5,699 women under 35 who attended the SBC were included in the study. A 44% rise in attendance occurred from 2018 (n = 1,280) to 2021 (n = 1,845).
There was an increase in the number of patients with a score of E3 from 44.1% to 57.5% from 2018 to 2021 respectively. The incidence of an E5 score was unchanged at 0.1%.
There was a 60.5% increase in the number of radiological investigations carried out from 2018 (n = 654) to 2021 (n = 1050).
An expected predominant use of ultrasound was observed, with a total of 3,011 ultrasound exams carried out (98.7% of all scans) over the four-year period.
A total of 570 patients received an ultrasound Royal College of Radiologists (RCR) breast score of R3 and above and thus proceeded to biopsy, representing 10% of all patients who underwent imaging over the four-year period. A 63.7% increase in the number of biopsies required was seen from 2018 (n = 113) to 2021 (n = 185).
Despite these significant percentage increases in attendance, radiological investigation, and biopsy, the incidence of cancer diagnosed in women under 35 was unchanged, according to Godson Treacy and O'Keeffe. The total number of cancer diagnoses under 35 over the four-year period was 36, with an incidence of 0.5% in 2018 (n = 7) and 0.4% (n = 7) in 2021. Around 97% of these diagnoses represented invasive carcinoma.
The average age at diagnosis over the four-year period was 31.8, and 18 of the 36 patients diagnosed with cancer from 2018-2021 were referred with a "likely benign" clinical examination indicated by an E3 score. The average size of tumor mass seen on ultrasound per year was 33.4 mm in 2018, 46 mm in 2019, 40.2 mm in 2020, and 49.86 mm in 2021.
Although this is only a single-center study, the authors suspect their experiences may be similar to those of other tertiary hospitals in Ireland. They think a review of other facilities would be valuable for future national service planning.
To view the whole ECR 2023 poster and learn more about the findings, go to the EPOS section of the congress organizers' website.