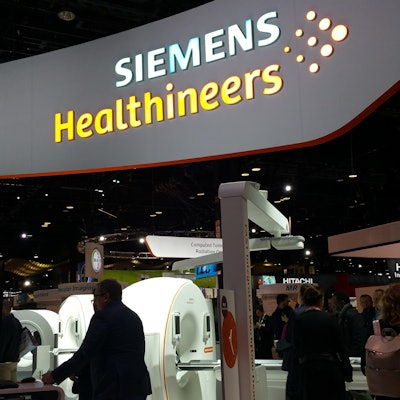 Gearing up for its upcoming initial public offering (IPO), Siemens Healthineers has announced plans to cut annual costs by 240 million euros ($293.9 million U.S.).
In a January 16 event in London for analysts and investors, Siemens Healthineers management shared an update on the company and its road map -- called Strategy 2025 -- for generating growth and improving profitability. The planned structural cost savings are expected to have a full visible impact in 2020, and the firm said it expects to realize continuous productivity improvements going forward.
Siemens said that its focus on adjacent growth markets will serve as the basis for generating incremental growth and improve its market positions by 2025 and beyond. Artificial intelligence (AI) technology figures prominently in the company's Strategy 2025 plan, which focuses on five specific areas:
Utilizing its position in the in vivo and in vitro markets to combine data and knowledge around precision medicine and make it relevant for clinical use
Using data and AI to integrate existing and innovative technologies for therapy
Coordinating and optimizing the patient journey through the healthcare continuum
Developing a full range of technical, operational, and clinical service offerings that are more effective and more efficient by using technologies from Siemens Healthineers
Continuing to develop and invest in capabilities in AI that support the above areas
Based on certain assumptions, Siemens said that it expects comparable revenue growth in 2018 to be between 3% and 4%, similar to the average growth rate of 3.8% over the past three years. The firm also hopes to achieve adjusted profit margins of 20% to 22% for its imaging and advanced therapies segments and 16% to 19% for its diagnostics segment.
Siemens plans to list Siemens Healthineers on the Frankfurt Stock Exchange's Regulated Market in the first half of the year.