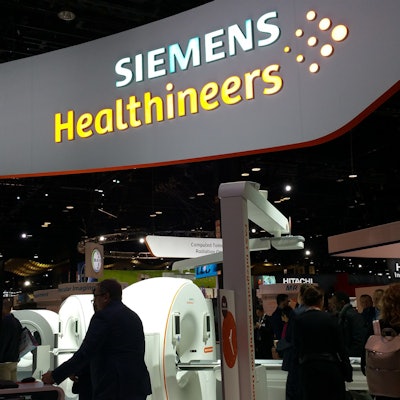 Siemens Healthineers is showcasing new product launches at ECR 2018, including Acuson Juniper, a premium shared-services ultrasound scanner developed after an extensive customer survey effort.
Acuson Juniper is designed to be a versatile product that is capable of thriving in a variety of demanding environments.
The scanner is the result of a two-year effort by Siemens to research the needs of its customer base, according to Miguel Trigueiros, global director of product marketing for ultrasound at the company's ultrasound headquarters in Mountain View, CA. The initiative involved over 350 participants and 170 workshops around the world, he said.
The fundamental issue driving the company's product development effort was a simple question to its users: If you designed an ultrasound scanner from the ground up, how would you design it to help you transform healthcare delivery?
Siemens therefore developed Juniper as an entirely new platform, designed to be versatile, adaptable, and transformative, and to meet the needs of users ranging from radiology to cardiology, even including disciplines such as interventional and ob/gyn imaging. The company picked Juniper as the product name due to the hardy plant's reputation for survival in some of the harshest environments, Trigueiros said.
"We wanted the name to tell the story of the product," Trigueiros told AuntMinnie.com. "Juniper is the world's most versatile tree; it will grow in mountains, deserts, your backyard. It adapts to cold and hot weather, and also it will grow in small spaces."
One example of Juniper's versatility is in how Siemens designed the system's transducers. Most ultrasound scanners have three or maybe four transducer ports, but Juniper sports six -- this makes it possible for users to have a wider array of probes available without having to unplug an old one and swap in a new one -- in fact, 80% of the clinical applications for which ultrasound is typically used can be covered with an active transducer, according to Trigueiros.
Siemens faced a conundrum with probe placement -- either on the left or right side of the system. In its workshops, the company didn't reach a consensus on which configuration was favored, so it simply built a control panel for Juniper that can be rotated 90°, enabling users to position the system with the ports to the side they prefer.
Other features on Juniper include a 21.5-inch LED display and a 13.3-inch touch display, as well as a gel warmer that's standard on the system rather than an option that customers have to pay for. There is also a USB port on the scanner so providers can transfer digital images to patients rather than having to output them to older media like prints or DVDs.
Siemens also took several steps to enhance Juniper's portability, an important factor for a shared-services scanner that might be moved around to different departments in a healthcare enterprise. The system has a battery and can be powered down in 3 to 5 seconds, and powered back up in five seconds.
Two other features include quiet operation -- Siemens made an effort to reduce Juniper's fan noise, so that it operates at a sound level of about 28 dB, some 48% quieter than the average for conventional scanners at 45 dB. For use in interventional environments, Siemens developed a rubber skin that can encase the unit during procedures and still enable sonographers to use the controls, then be removed and disinfected afterward -- an idea that Siemens received from the customer workshops, Trigueiros said.
Finally, Juniper features an entirely new architecture, including new signal processors and a new 128-channel beamformer that have led to big improvements in signal-to-noise ratio, faster image acquisition, and fewer artifacts from patient and probe motion. And all this in a compact package, with a footprint that is 36% smaller than the average ultrasound scanner. The scanner also supports teamplay, Siemens' peer-to-peer network, and EasyLink, a new remote service and diagnostics function.
Juniper has received both the CE Mark in Europe and 510(k) clearance from the U.S. Food and Drug Administration (FDA); the company will begin shipments in Europe and the U.S. after ECR 2018. Shipments in other global geographies are pending regulatory clearances, Trigueiros said.