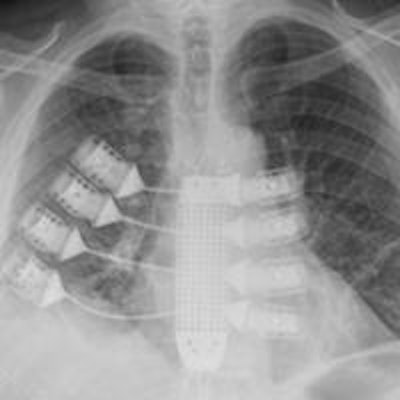 Spanish surgeons have successfully implanted a customized 3D-printed titanium rib prosthesis based on high-resolution CT scans, according to a study published online in the European Journal of Cardio-Thoracic Imaging. For patients, customized titanium implants offer the tantalizing prospect of strong, perfectly fitting prostheses that are comfortable enough to be forgotten.
The high-tech bones were implanted in a 54-year-old man who had undergone surgery for primary sternal osteosarcoma, and was designed as a rigid sternal core with titanium rods as neo-ribs. The study team from the University of Salamanca in Spain uploaded high-resolution perfusion CT images in DICOM format to an electron-beam melting machine in Australia, which built the custom implant.
The 3D-printing technology combined with a unique resection template enabled the researchers to create a customized and well-fitted body part, Dr. Jose Aranda, PhD, said in a statement accompanying release of the study.
"I think the main achievement of this study was to get a prosthesis that perfectly fits in the surgical field, has a new and really secure fixation system that minimizes the risk of complications, and besides this, maximizes cosmetic and functional results," he added in an email to AuntMinnieEurope.com.
Mesh imperfections
After surgical resection for local control of primary malignant sternal tumors, the use of moldable titanium plates, bars, and meshes for reconstruction has become a typical option as the material is strong, flexible, and easy to use.
More recently, a few publications have shown better results with 3D custom-made titanium printed prostheses, which offer greater comfort and flexibility to the patient, Aranda and colleagues wrote (European Journal of Cardio-Thoracic Surgery, 4 August 2015).
At the same time, computer-aided 3D design eliminates the need to cut or shape the implant in the operating theater, and affords a practically infinite variety of designs.
"We thought maybe we could create a new type of implant that we could fully customize to replicate the intricate structures of the sternum and ribs," Aranda said in his statement. "We wanted to provide a safer option for our patient, and improve their recovery postsurgery."
The patient presented with a painful 8 x 8-cm right parasternal mass. A 3D perfusion CT showed involvement of both pectoral muscles, as well as the sternal body and the third and fourth bilateral ribs, with no other distant metastases. The findings suggested primary sternal chondrosarcoma, wrote Aranda and colleagues Dr. Marcelo F. Jiménez, PhD, María Rodríguez, and Dr. Gonzalo Varela, PhD, from Salamanca University Hospital in Salamanca, Spain.
Custom-printed 3D prosthesis
The surgeons turned to Anatomics of Australia to print the titanium prosthesis from a surgical-grade titanium alloy on an Arcam A1 electron beam melting machine (CSIRO, Clayton, Australia). Using 3D software, they also designed a resection template to enable exact intraoperative setting of resection margins.
The authors created a 3D surface rendering of the chest wall and tumor to confirm resection margins and apply them to create the prosthesis extent for reconstruction. Next, they transmitted the high-resolution 3D CT perfusion DICOM data to Australia via Anatomics proprietary software. Anatomics then used the data to create a 3D reconstruction of the chest wall and tumor.
"From this, we were able to design an implant with a rigid sternal core and semiflexible titanium rods to act as prosthetic ribs attached to the sternum," Anatomics CEO Andrew Batty said in a statement.
Working with experts at CSIRO's 3D printing facility, the team then manufactured the implant out of surgical-grade titanium alloy.
Melting titanium
The printer builds the model by pointing an electron beam at a bed of titanium powder, which melts it. The process is then repeated to build the model up layer by layer to form a complete implant.
The finished implant consists of a rigid sternal core with titanium rods as neo-ribs; the surgeons used steel wires for sternal anchoring, the authors wrote.
"Flat and plate implants rely on screws for rigid fixation that may come loose over time," they stated. "This can increase the risk of complications and the possibility of reoperation."
The skin, muscles, and sternal body and bilateral costal arches were resected en bloc, the authors reported. Histopathology showed a grade II sarcoma with differentiated areas of liposarcoma. The patient returned home 12 days after surgery, and postsurgical examination showed stable reconstruction that preserved the thoracic morphology and also provided excellent cosmetic results.
The operation was very successful, Aranda reported.
"[A] 3D titanium-printed custom-made prosthesis seems to be a valid option for reconstruction after extensive sternocostal excision, achieving good functional and cosmetic results," the study team concluded. "Regarding the use of an intraoperative template to precisely set resection margins, the novel prosthetic design as well as a new and safer rib fixation system may offer some advantages over other custom-made reconstructive techniques."
Three-dimensional titanium-printing is a promising tool; however, its use is probably restricted to patients who need extensive sternal resection in cases where simpler reconstruction techniques have been found to be inadequate, the group wrote.
Also, because the manufacturing process takes about a month, a few highly aggressive tumors could lead to unexpected findings in the operating room after a lengthy delay in surgery, the group added. Long-term follow-up will also be needed to determine if the excellent cosmetic results will remain stable, and if there are any other complications.