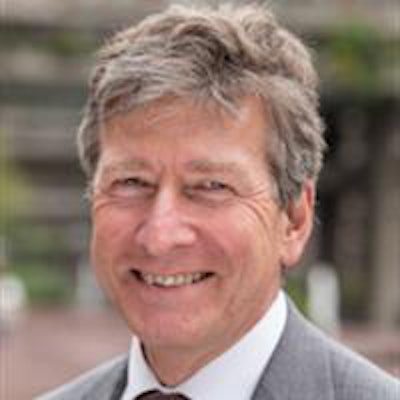 "What does the president actually do?" That's a question I get asked from time to time. I thought I'd give a brief account of what I did last month, or at least some of it, so that you can get an idea about what the job of president of the U.K. Royal College of Radiologists (RCR) entails.
1. Fellows and BMJ awards ceremonies
First up was the new RCR Fellows admission ceremony. This is always a highlight -- the admission of new fellows in both radiology and oncology occurs twice a year. An event dedicated to celebrating success can only go well. Next up was the BMJ awards -- a glitzy ceremony at a London hotel. This year a category for "imaging team of the year" was included for the first time. Many congratulations to the winners -- the Royal Marsden's colorectal cancer imagers -- and to the highly commended team from Swindon.
2. Memorial service for Ronald Grainger
The famous radiologist Dr. Ronald Grainger died last year. This wonderful service was arranged jointly by the Grainger family and the University of Sheffield. Together with many personal reminiscences, a highlight was David Allison's account of the compilation of the first edition of "Grainger & Allison's Diagnostic Radiology." The very thought of undertaking something on that scale with manual typescript and no email brings me out in a cold sweat.
3. Visits to Belfast and Cardiff
Every year the RCR president, vice presidents and CEO meet the chief medical officers (or their deputies) in each of the devolved nations to discuss their current issues in radiology and clinical oncology. Afterward, we attended meetings of the Northern Ireland Standing Committee and Standing Welsh Committee and heard a bit more about the successes as well as the challenges of the local imaging and oncology communities.
4. Clinical radiology audit forum
This annual event for audit leads featured inspirational presentations on audit and quality improvement, including a review of last year's activity and a glimpse of what is coming. With increasing participation in national audits, the initiative is generating data of real value that can be used to drive change for the better.
5. Creative writing
Citations for Clinical Excellence Awards applications, a guest blog for Cancer Research U.K., an article on the implications of the Five Year Forward View for radiology, a press release on deficiencies in interventional radiology services, letters to National Health Service (NHS) England about PET/CT, to Health Education England about training numbers and recruitment, and more.
6. Meeting with the General Medical Council (GMC)
This was a meeting with the GMC's chief executive and chair of council to discuss the Duty of Candour and the particular concerns that relate to the practice of radiology. We were able to demonstrate real-life scenarios showing why radiologists are worried. Discussions are continuing with both the GMC and the CQC on this issue.
7. Leeds -- 10 year anniversary of the radiology academies
An event arranged to celebrate and review progress in the three radiology academies that were established as a means of achieving rapid expansion of training numbers early in the millennium. My introduction focussed on the fact that we are in a very similar position now with an urgent need to expand the radiologist workforce, one component of which must be an increase in training numbers. The academies have shown how this can be achieved without putting undue pressure on clinical placements.
8. Speaking to journalists
One Monday -- generally a clinical day -- I spoke to the Times about radiotherapy equipment, the Guardian about seven-day services and Radio 4 about Choosing Wisely and imaging for low back pain. Also set up an interview for the Daily Mail later in the week.
9. The Society of Radiologists in Training
My fourth time at this meeting, held this year in beautiful North Wales. I completely failed to address the topic I had been asked to speak about, but still a pleasure to meet this group of enthusiastic and committed radiology trainees. Good conversations about Duty of Candour, professional dilemmas in radiology, and of course workforce issues. Question: Should more radiology meetings include karaoke? Answer: possibly not.
10. Long holiday weekend on call
Yes, the president does on-call. Enough said.
Editor's note: This is an edited version of a blog that originally appeared on the RCR website.