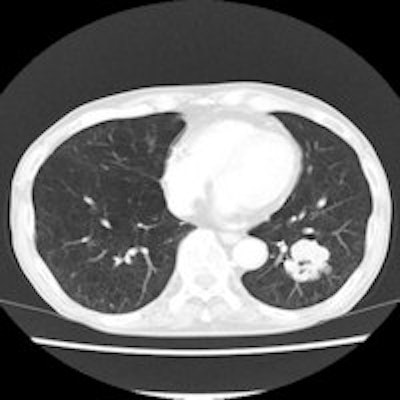 Individuals scanned with CT in the Nederlands-Leuvens Longkanker Screenings Onderzoek (NELSON) lung cancer screening trial had a similar risk of cancer as people who did not participate in the study, meaning the research can be generalized to a wider population.
That's according to a recent analysis of results of the ongoing trial, published in the Journal of Thoracic Oncology (Yousaf-Khan et al, January 30, 2015).
The results suggest that participants in the trial had similar characteristics as the target population for CT lung cancer screening. This is an important consideration when launching a screening program to ensure that disease and mortality rates in actual screening practice will be similar to those predicted by the trial.
The ongoing Dutch-Belgian NELSON trial is investigating whether screening with low-dose CT can reduce lung cancer mortality by at least 25% versus no screening at 10 years of follow-up for individuals 50 to 75 years old. The trial is focusing on individuals with a smoking history of 15 cigarettes or more per day for at least 25 years, or 10 cigarettes or more for at least 30 years. Participants had to be current smokers or have quit 10 or more years ago.
In NELSON, a health questionnaire sent to more than 606,000 individuals ages 50 to 74 years was used to identify at-risk subjects for screening. In all, 15,822 accepted an invitation to screen and were randomized to either low-dose CT or control groups. The remaining individuals were deemed eligible nonparticipants. The current analysis compared the baseline characteristics and mortality profiles of eligible nonparticipants versus the control arm.
Control participants were younger, had better self-reported health, were more physically active, were better educated, and more often were former smokers, compared with the eligible nonparticipants, but numerical differences were minimal, according to the authors. Eligible nonparticipants had higher all-cause mortality as well as mortality due to cardiovascular, respiratory, and noncancerous disease. Even so, the relative proportion of subjects who died due to all types of cancer was higher among participants.
Although eligible nonparticipants were slightly younger and healthier than the screened population, the differences were modest and are unlikely to influence the generalizability of the main results of the trial to the target population, the researchers concluded.