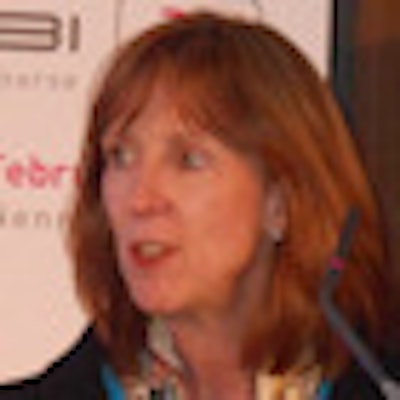 VIENNA - When it comes to breast cancer surveillance and equivocal findings that may indicate recurrence, Dr. Fiona Gilbert is unequivocal: MRI absolutely outperforms other modalities to exclude malignant disease with reasonable certainty, she told participants at last week's meeting organized by the European Society of Breast Imaging (EUSOBI).
But after this ringing endorsement for MRI, her conclusion stunned course participants, because she noted that MRI is not justified as a surveillance tool for women who have previously had cancer.
"I noticed it seemed to wake people up," she said in an interview following her presentation. Gilbert, professor of radiology at the Cambridge University's School of Clinical Medicine, U.K., explained that while MRI is undoubtedly the most sensitive modality, the price of this effectiveness is simply not cost-effective for a healthcare system.
Taking the U.K. as an example, the National Health Service faces a population of 250,000 women who would be indicated for an annual examination to monitor recurrence, she said. Where the clinical advantage of MRI has been consistently demonstrated across numerous studies, these studies looked at a population of women at high risk for breast cancer, the majority of whom are younger than 50 and premenopausal. Meanwhile, more than 80% of the women at risk of a recurrence are older than 50, with less dense breast tissue. Given this population, the advantage MRI holds over other modalities narrows significantly, she explained.
The 10% advantage for sensitivity with MRI in this group does not justify a cost that is three times greater, requires 30 minutes of scanner utilization, and requires contrast enhancement, according to Gilbert, who presented a retrospective review of women with second cancers over a 17-year period at last year's European Congress of Radiology.
"To justify surveillance, we needed to show that early identification would actually save lives," she said.
The study found that women with breast cancers smaller than 1 cm in size or between 1 cm and 2 cm had much better survival rates than those with tumors larger than 2 cm. Mammography was recommended as the modality for surveillance of these patients. The evidence suggests MRI should be used when there is an indeterminate lesion following conventional triple assessment of clinical assessment, both mammography and ultrasound examinations, and needle biopsy.