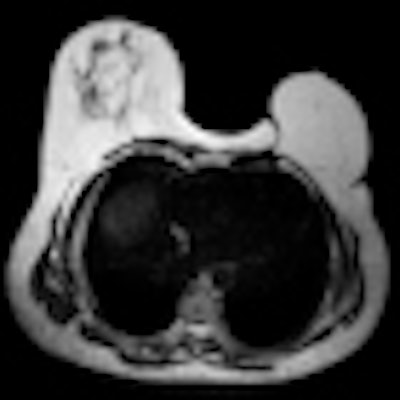 MRI now has a pre-eminent role in detecting breast implant failures and illustrating the spectrum of appearances of normal silicone gel implants and of implant ruptures. It is more accurate than ultrasound and mammography for assessing implant integrity, according to Spanish researchers.
Because of its high spatial resolution and contrast between implants and soft tissues and lack of ionizing radiation, MR is the most useful imaging modality for characterizing breast implants. It has the highest sensitivity and specificity for implant rupture, due to its sequences that can suppress or emphasize the signal from silicone. Also, it can differentiate intracapsular from extracapsular rupture and assess the extent of silicone leakage into the breast parenchyma and granuloma formation, noted Dr. Sergi Juanpere, from the department of radiology-IDI at Dr. Josep Trueta University Hospital in Girona, Spain.
"In symptomatic patients, after conventional imaging, noncontrast MRI is recommended to confirm or exclude rupture," he wrote in an article published online on 7 August by Insights into Imaging. "MRI is not recommended for screening for implant rupture in asymptomatic patients. In patients with oncoplastic surgery, dynamic contrast-enhanced MRI is indicated to evaluate the breast gland parenchyma."
The overall aim of imaging breast implants is to provide vital information about tissue and prosthesis integrity, highlight implant abnormalities, and detect breast diseases unrelated to implants, such as breast cancer. Radiologists must be familiar with the normal and abnormal findings of common implants. They need to know about the surgical technique of implantation, the intraoperative complications that may occur, and the clinical monitoring of patients.
"It is essential to be aware of the spectrum of normal appearances to avoid false-positive findings (prominent radial folds)," Juanpere stated. "Moreover, the information provided by plastic surgeons is critical and often essential in the evaluation of breast implant integrity."
Growing numbers of women have implants for cosmetic augmentation of the breast, reconstruction after mastectomy, or correction of congenital malformations. Implant rupture is a well-known complication after surgery and is the main cause of implant removal. Most ruptures have no obvious traumatic origin and sometimes occur in asymptomatic patients. They tend to occur between 10 and 15 years after implantation. The incidence of rupture increases with implant age; the average incidence is about two implant ruptures per 100 implant years, with an estimated probability of being intact after five and 10 years of implantation of 98% and 83% to 85%, respectively, he wrote.
MRI can reliably reveal collapsed intracapsular rupture by detecting shell fragments floating inside the silicone gel implant ("linguine sign"). This sign is often associated with extracapsular rupture. An uncollapsed silicone implant rupture may be seen as a subtle silicone invagination between the inner shell and fibrous capsule, known as the "teardrop sign" or the "keyhole sign." Other imaging signs, such as the "salad oil sign" or "droplet sign," are nonspecific and not reliable without other MRI evidence of implant rupture, but these signs should prompt a search for subtle signs of intracapsular rupture, according to Juanpere.
MRI's sensitivity for rupture is between 80% and 90%, and its specificity is between 90% and 97%. It may be used to exclude a ruptured prosthesis, and can show the presence and extent of silicone leakage better than other imaging techniques. Despite this, conventional breast imaging techniques are the methods of choice when breast implant failure is suspected because well-defined and discernible sonographic features have been established for ruptured implants. Moreover, MRI is more expensive, and many women have contraindications -- cardiac pacemakers, aneurysm clips, metallic foreign bodies, and claustrophobia -- to MRI, he wrote.
"A dedicated MRI breast coil should be used to obtain high-resolution images, allowing detection of subtle signs of implant leakage or rupture. MRI's usefulness derives from its ability to suppress or emphasize the signal from water, fat, or especially silicone. Its high spatial and soft-tissue resolutions make it ideal for the characterization of breast implants," Juanpere noted.
Multiplanar dedicated T1- and T2-weighted MRI techniques are used for evaluating implant integrity. He does not recommend the use of contrast agents in MRI studies for assessing breast implant integrity, but when the priority is detecting recurrence or residual tumors, contrast-enhanced MRI of the breast is useful for characterizing parenchymal lesions. He favors magnets of at least 1.5 tesla because of the ability to use MR sequences that can more readily suppress or emphasize the signal from water, fat, or silicone. Turbo spin-echo T2-weighted images, short-time inversion recovery silicone excited (silicone hyperintense, water-suppressed), and silicone-saturated (water hyperintense, silicone-suppressed) are the most important sequences in silicone breast implant assessment.
Implants might interfere with the earliest possible detection of a cancer by altering the physical examination of the breast or impairing various imaging techniques, he pointed out. Although the sensitivity of mammography and ultrasound for cancer detection may be reduced in augmented woman, the presence of the implant does not seem to decrease the sensitivity of breast MRI. When evaluating these patients, physical and mammographic findings should be correlated, and any palpable abnormalities should be studied with ultrasound or contrast-enhanced MRI.
"MRI is clearly recommended in augmented woman with suspicion of a tumor. All suspicious lesions should be analyzed by fine-needle aspiration or core-needle biopsy with maximum caution to avoid damaging the implant," Juanpere noted.
Conventional breast imaging techniques, especially ultrasound, still provide useful information about implants. However, intracapsular rupture, which is frequent but often clinically silent, cannot be easily detected by mammography because of the radiopacity of the implant. The sensitivity of ultrasound is greater if discontinuous echogenic lines within silicone gel ("stepladder sign") are detected. Periprosthetic hyperdensity on mammography and the "snowstorm sign" on ultrasonography are significantly associated with extracapsular rupture.
On CT, an intact silicone implant is characterized by an oval shape and homogeneous gray density within a surrounding high-density ring, he wrote. The implant often has contour deformities or implant bulges or hernias. The CT findings of intracapsular silicone implant rupture are similar to those of MRI, and the collapsed implant shell can usually be easily identified. Because silicone and soft tissues have similar radiodensities, extracapsular silicone can be difficult to identify on CT, but in most cases of extracapsular silicone implant ruptures, CT can detect the collapsed implant shell.
Because of CT's use of ionizing radiation and its low sensitivity and specificity, the modality should not be the study of choice, especially in young women, Juanpere stated. Most CT images of ruptured breast implants are incidental findings in asymptomatic patients or in already known failed implants.
The co-authors of this article were Drs. Elsa Perez, Naiara Motos, Josep Pont, and Salvador Pedraza, from the department of radiology at Dr. Josep Trueta University Hospital, and Dr. Oscar Huc from the department of plastic surgery at the same hospital.