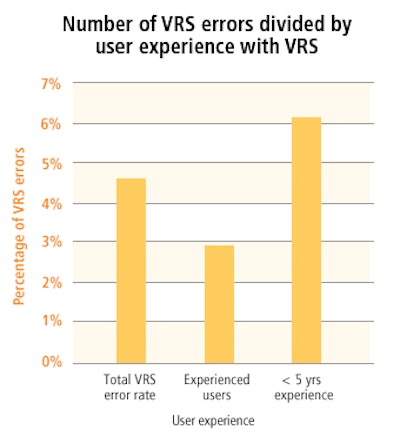 The more radiologists use a voice recognition system (VRS), the fewer mistakes they make. That's the central message of a study that examined errors in VRS reports over a nine-year period.
Continuous voice recognition dictation systems for radiology reporting provide a viable alternative to conventional transcription services, with the promise of shorter report turnaround times and increased cost savings, according to lead author Dr. Amanjot Karuppiah, who is now based at the Norwich Radiology Academy in Norwich, U.K., but who conducted the research during a spell at Aberdeen Royal Infirmary, a tertiary referral center in Scotland.
Karuppiah and colleagues analyzed the error rate of the VRS in final radiological reports. Audits conducted at the Aberdeen Royal Infirmary in 2002, 2004, and 2008 found error rates of 4.3%, 3.3%, and 4.1%, respectively. This compares with the standard overall error rate of around 5% in VRS reports.
For the 2010 audit, the group collected data retrospectively for two weeks using the VRS database. The last 25 reports of each user were evaluated, and a total of 826 reports were analyzed. Incoherent reports -- "with no sensible opinion, resulting in lack of communication between clinician and reporting radiologist" -- were regarded as constituting a major error. A user with more than five years of experience in VRS was classified as being experienced.
The group found 38 errors in 32 reports, for an overall error rate of 4.6%. Of these, 24 were minor errors, 11 were moderate errors, and three were major errors.
"Experienced users are less likely to have errors in their final radiological report," the authors noted at the 2011 U.K. Radiological Congress (UKRC).
The error rate of experienced users was 2.9%, compared with 6.1% for users with less than five years experience with the software (see figure 1).
The trend in the percentage of VRS errors can be seen in figure 2. No data were available for 2006.
The co-authors of the study were Dr. N. Subedi and Dr. A. Denison, both of the Aberdeen Royal Infirmary.