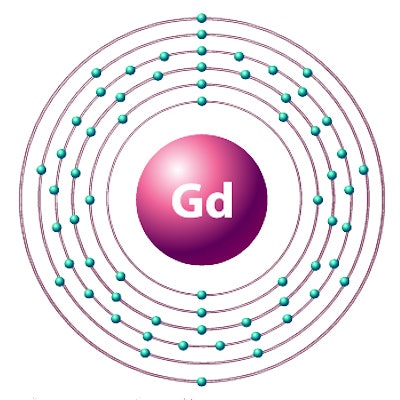 Gadolinium accumulation occurs in most patients undergoing contrast MRI screening after more than five MRI scans, so Belgian researchers have advocated a screening protocol for individuals with hereditary tumor syndromes that minimizes the gadolinium dose.
The researchers looked at the brains of patients with von Hippel-Lindau (VHL) disease and tuberous sclerosis complex (TSC) to determine gadolinium accumulation. Led by Dr. Evelynn Vergauwen from the neurosurgery department at Universitair Ziekenhuis Brussel, the study team found gadolinium does accumulate and advised using a single administration to simultaneously screen for brain, spine, and/or abdominal lesions.
"Gadolinium accumulation in the dentate nucleus and globus pallidus is very frequently observed in VHL patients, being present in all patients after 16 MRIs," the authors wrote (Hereditary Cancer in Clinical Practice, 5 January 2018). "Because of the significant prevalence of gadolinium accumulation, we have changed our screening protocol for VHL and TSC patients in order to minimize the amount of gadolinium injection."
Decrease the frequency
Patients with hereditary tumor syndromes need to undergo periodical MRI screening, according to international guidelines, and they are repeatedly exposed to intravenous gadolinium-based contrast agents (GBCAs). GBCAs have been in the news recently with the European Medicines Agency's ruling that some linear GBCAs should be pulled from the market.
In the study by Vergauwen and colleagues, the researchers sought to discover what happens to patients repeatedly exposed to gadolinium. Patients with VHL and TSC receive an average of one gadolinium dose per year for MRI screening of the brain, abdomen, and/or spine.
The researchers identified the prevalence and rate of accumulation in the dentate nucleus and globus pallidus on unenhanced T1-weighted MRI from 28 VHL and TSC patients. They compared the signal intensities of the regions to the signal intensity of the pons. They also evaluated the impact of the number of MRI exams, kidney function, and liver function on gadolinium accumulation.
They found the prevalence of accumulation in the dentate nucleus and globus pallidus increased linearly according to the number of gadolinium-enhanced MRI exams and was higher in the VHL group (100%). A significant linear correlation between the number of MRI scans and increased signal intensity was observed in the VHL group.
As a result of the study, Vergauwen and colleagues encourage a single administration of any GBCA to simultaneously screen for brain, spine, and/or abdominal lesions in an abbreviated MRI protocol focused specifically on either VHL or TSC lesions.
"Unenhanced MRI is not sensitive enough for the diagnosis of the majority of VHL and TSC lesions; however, abdominal ultrasound can occasionally be used for the follow-up of cystic lesions," they wrote. "We also consider lengthening screening intervals on an individual basis if there is no disease progression since the last screening, and if there are no lesions close to the limit of treatment."
They also suggest to limit MRI brain and spine screening to once in two years for VHL and TSC patients without central nervous system involvement.