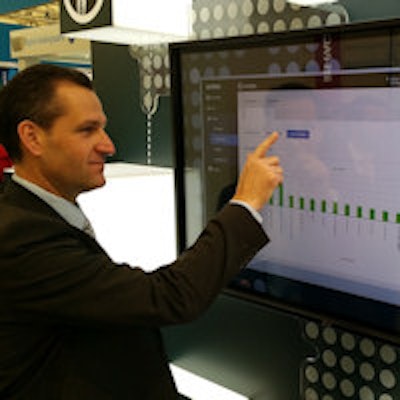 VIENNA - Siemens Healthcare wants its customer base to get more social. To that end, the company is using this week's ECR 2015 to launch teamplay, an ambitious healthcare IT platform designed to promote interaction and collaboration among its users.
The idea behind teamplay comes from the social networking world, where a revolution in peer-to-peer communication and information exchange is playing out. Siemens believes that the radiology world could benefit from a similar phenomenon, especially given the many pressures facing today's imaging practitioners.
To that end, teamplay is the company's effort to build a social network among its customers. The company has hundreds of thousands of users in its installed base, all of whom could learn from each other in an organized environment, the company believes.
Teamplay is a cloud-based platform that can be installed as an app on multiple types of devices and computers. While it aims to leverage the power of big-data analysis, at its front end is an easy-to-use interface that serves as a gateway to important site data in a dashboard-style format.
For example, teamplay users can see the types of imaging exams their site is performing, as well as monitor important issues such as radiation dose per exam and by scanner, as well as sentinel events such as dose alerts. But more importantly, it also allows users to benchmark their own results against those of similar sites in the teamplay network.
Not everyone wants all of their key operational data visible publicly, so data circulating in the teamplay network are both anonymized and pseudonymized to ensure confidentiality. To ensure reliability, teamplay is based on Microsoft's Azure cloud hosting platform, the same platform that underlies Apple's iCloud offerings.
Siemens plans to roll teamplay out to beta sites in April, with initial users focusing on employing the platform to manage their radiation dose levels. The next teamplay application after that will be utilization, with image sharing to follow.
With respect to image sharing, Siemens wants teamplay to become as intuitive and ubiquitous as Dropbox, the commercial file-sharing application. As with site data, images are anonymized for user confidentiality.
Healthcare IT isn't taking up all the space in Siemens' ECR 2015 stand, however. The company is also promoting Acuson P500, a new line of handheld ultrasound scanners, with the Frosk edition as the first system in the family.
The Frosk edition is a 15-inch (38-cm) notebook that weighs less than 18 lb (8 kg) and is targeted for emergency medicine and general imaging applications. The system features Siemens' Advanced SieClear spatial compounding and Dynamic TCE tissue contrast enhancement technology, capabilities that were migrated from the vendor's Acuson S premium ultrasound family.
The scanner can handle general imaging applications such as abdominal, small parts, renal, pelvic, vascular, 2D obstetrics, and gynecology, as well as basic evaluation of cardiac functions, Siemens said. It will come with five transducers: one curved linear, one phased array, and one endocavity probe, in addition to two high-frequency linear probes.
Siemens expects to begin shipping P500 Frosk in April. It has received U.S. Food and Drug Administration (FDA) 510(k) clearance, and the European CE Mark is expected by April, Siemens said. It will also be available worldwide, and product registrations are in progress for other major countries.
Other Siemens technologies on display at ECR 2015 include Magnetom Amira. The 1.5-tesla MRI scanner launched at RSNA 2014 offers the same technologies found on flagship scanners but sports lower operating costs thanks to its Eco-Power design, which monitors and controls helium.
Eco-Power enables Amira to achieve power savings of up to 30% when in standby mode, and in combination with the system's zero helium boil-off technology, it can produce savings of up to 20,000 euros per year, compared with the company's Magnetom Symphony scanner.
Mobilett Mira Max is a mobile digital x-ray system that ECR attendees are getting their first look at following the system's launch at RSNA 2014. The unit comes with Siemens' Max (multiple advances in x-ray) technology, which improves speed of operation.
In CT, ECR delegates are perusing the latest iteration of Definition Edge, the flagship CT scanner that Siemens updated at RSNA 2014. Edge features TwinBeam Dual Energy, a new x-ray tube technology that Siemens believes will make dual-energy imaging accessible at the lower price points possible with a single-source scanner.
Other Siemens products and technologies on display at ECR 2015 include its syngo Dyna4D application for time-resolved 3D angiography, syngo DynaCT SMART (streak metal artifact removal technique) technology, Symbia Intevo SPECT/CT system, and Biograph mCT PET/CT scanner.