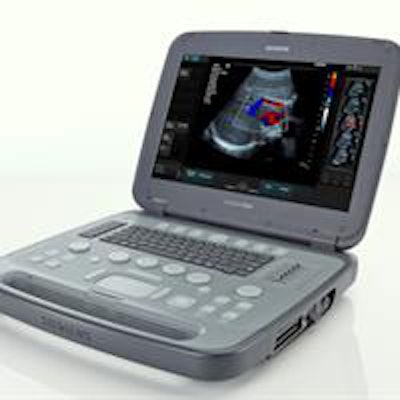 Handheld ultrasound systems represent a rapidly growing segment of the ultrasound market, and prospective purchasers will soon have an additional entrant to consider. Siemens Healthcare will unveil Acuson P500, a new handheld ultrasound platform, at this week's European Congress of Radiology (ECR) in Vienna.
The company is emphasizing the adaptability of the initial system in the P500 family, called Frosk edition. Frosk is Norwegian for frog, a creature that's highly adaptive to its surroundings, and the new platform is designed around that principle, according to the vendor. Frosk edition is targeted toward emergency medicine and general imaging applications.
P500 Frosk is based on a 15-inch (38-cm) notebook and weighs less than 18 lb (8 kg), features Siemens' Advanced SieClear spatial compounding and Dynamic TCE tissue contrast enhancement technology, capabilities that were migrated from the vendor's Acuson S premium ultrasound family. In addition, Siemens has incorporated new image enhancement tools called dynamic persistence and auto flash color artifact suppression, which team up to detect and compensate for motion that could negatively affect image quality, according to the firm.
Working with B-mode and color images, dynamic persistence is designed to prevent ghosting when it detects probe or patient motion. When no motion is detected, the technique enhances color sensitivity and reduces B-mode noise, according to the firm. Similarly, Siemens' auto flash color artifact suppression tool also aims to detect and prevent motion artifacts from probe and patient movement. If no motion is detected, the mode enhances color imaging sensitivity, Siemens said.
In addition to its utility for emergency medicine and acute care, the scanner can handle general imaging applications such as abdominal, small parts, renal, pelvic, vascular, 2D obstetrics, and gynecology, and basic evaluation of cardiac functions, Siemens said. It will come with five transducers: one curved linear, one phased-array, and one endocavity probe, as well as two high-frequency linear probes.
Siemens is also pointing to the system's dual user interface, which was designed by Siemens Corporate Research and allows users to employ a touchscreen display with infrared technology and/or a traditional control panel based on their scanning preferences.
"[P500, Frosk edition is] designed with a simple, intuitive workflow in mind, with an interface that will work across all of ultrasound, [from] the novice user to the most advanced user," said Kristin Woitovich, global product marketing manager for core markets in Siemens' ultrasound business unit.
The system's battery supports up to 60 minutes of scanning time, while a rapid boot-up feature enables scanning to be performed in less than 30 seconds, according to the vendor. The system can transmit images wirelessly and utilizes a solid-state hard drive to improve ruggedness and durability, Woitovich said.
"A solid-state drive reduces latency and gives faster responsiveness and performance," she said.
In addition, a protective "skin" is available for the keyboard to prevent liquid getting into the keys or contamination, she said.
Available options for P500 include an ergonomic SmartCart, which offers added mobility, and a multitransducer module that can enable three ports to be active on the system. The SmartCart also provides four cup holders, modular storage, as well as built-in hydraulics to accommodate scanning of patients at different heights, Woitovich added.
Siemens expects to begin shipping P500 in April. It has received U.S. Food and Drug Administration (FDA) 510(k) clearance, and the European CE Mark is expected by April, Siemens said. It will also be available worldwide, and product registrations are in progress for other major countries.
Siemens declined to provide pricing information for the scanner.