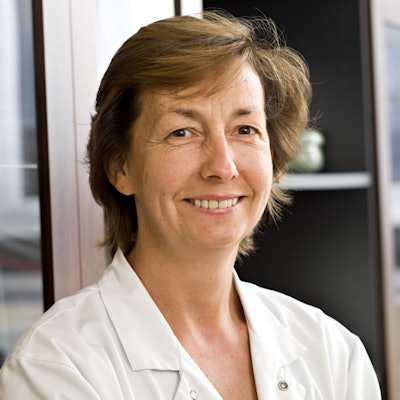 Radiologists are extremely diligent about developing technical skills for their profession, but they may need to work harder cultivating "soft skills" such as good patient communication. That's the view of Prof. Valérie Vilgrain from Paris.
And a lack of these soft skills can mean the difference between being a good radiologist and a great one, according to Vilgrain, who is chair of radiology at the University Beaujon Hospital and professor of radiology at the University of Paris.
"Hard skills in radiology are getting an MD degree and specializing in radiology through training," she noted in a special workshop held on 15 July at ECR 2022. "The ultimate goal of hard skills is to deliver safe patient care [and] give accurate interpretation. [But soft skills] are attitudes that make someone a well-rounded professional -- [allowing us] to better serve patients and better work in the professional environment."
What are the essential soft skills for radiologists? Vilgrain described the following seven:
Clear communication -- "Don't play 'invisible radiologist,' " she said. "We don't work alone, we work in an environment with many stakeholders: patients, first, but also our colleagues, nurses, techs, and hospital administration. We should be highly visible ... because we are essential to patient management. We have to talk to our patients and set up multidisciplinary consultation and team meetings to increase interprofessional and team communication."
Empathy -- "Empathy is a key component of emotional intelligence," she noted.
Humility -- "We realize every day that we often fail, and we have to admit that we don't know everything," Vilgrain said.
Confidence in one's skills -- "Your confidence will increase patient trust and will translate to your team," she said.
Stress management -- "We have to manage pressure and to take care of ourselves," she noted. "Burnout is commonly seen in doctors and quite common in radiologists, some say more than 50% ... one of them being 'invisible' in the reading room."
A strong work ethic and integrity -- "We have to be professional with our patients and respect their rights," she said.
Leadership -- "If you are in a position to lead, support your team, motivate them, and be involved in mentoring," she urged.
To underscore the importance of soft skills, Vilgrain cited a study published in Advances in Health Sciences Education: Theory and Practice that examined the effect of empathy and emotional intelligence of 50 surgeons on the patient/doctor relationship with 549 outpatients. The research showed that surgeons who demonstrated emotional intelligence toward their patients had a positive effect on patient-rated patient-surgeon relationships both before and after surgery.
Soft skills aren't just icing on the cake, but a key part of providing excellent and efficient patient care, Vilgrain concluded.
"When I started my professional career, [I was] much more focused on hard skills," she said. "It has taken me decades to realize that soft skills are extremely important."