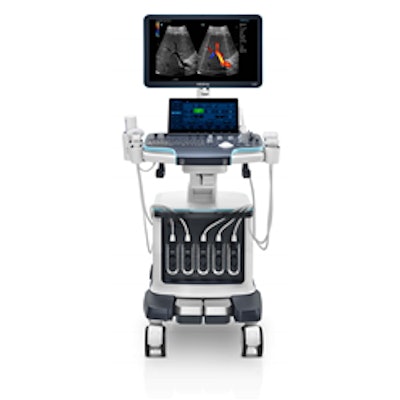 Mindray introduced its Resona 7 Lightning Edition premium radiology ultrasound scanner at RSNA 2021 in Chicago.
The new edition features a variety of workflow enhancements, system design improvements, and new imaging capabilities, according to the vendor. For example, its second-generation Ultra-Wideband Non-Linear (UWN+) contrast-enhanced ultrasound imaging technology now supports high frame-rate imaging on expanded transducers. The technique can now improve visualization of vascular perfusion in the arterial phase by using plane-wave imaging on linear transducers, Mindray said.
The firm has also incorporated its high frame-rate (HiFR) Sound Touch Elastography method, which aims to provide smoother transition times and faster rates during live 2D shear-wave imaging. Also, the vendor's Glazing Flow 3D software is designed to optimize visualization of microvascular perfusion states and improve delineation of vessel borders.
The Lightning Edition release is available for free to all current Resona 7 customers who are still within their five-year warranty, Mindray said.