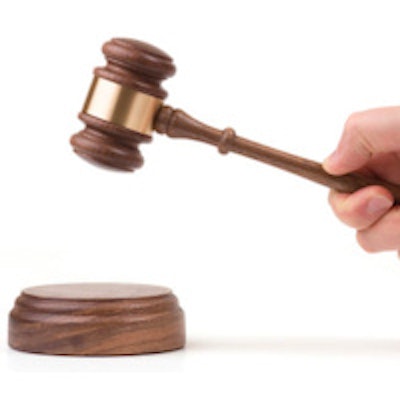 Two years after introducing the concept of reverse auctions to buy capital medical imaging equipment, U.S. firm Reverse Radiology has launched a website to give radiology departments and imaging centers more purchasing leverage.
Reverse auctions are commonly used in other industries to buy everything from construction equipment to office supplies and ancillary services. But so far, the practice is not commonly used in healthcare.
Here's how it works: A business uses a website or other messaging vehicle to send out a notice that it's in the market to buy something. The entity details its requirements, quantity, and other criteria and establishes a maximum threshold price it is willing to pay. The buyer can also set a time limit on how long the auction will run, which could be anywhere from one hour to several days.
Prequalified vendors would see the request and bid against each other to win the contract. The buyer can also accept a vendor for participation in the reverse auction. To increase the likelihood of lower bids, Reverse Radiology requires three vendors to compete against each other. As soon as three vendors are participating, the auction is scheduled.
The process also allows buyers and sellers to negotiate back and forth to sweeten a possible deal. Say, for example, a buyer is looking to purchase a CT scanner. A vendor might enhance its bid by offering a year or two of discounted or free equipment service and maintenance.
In the end, a buyer is not obligated to accept the lowest bid, but instead can determine the best value for the money.
In the driver's seat
"We are turning around the car and putting the buyer in the driver's seat, instead of the vendor who traditionally dictates the price except for negotiations with the buyer, who may not have much leverage," said Dr. Roland Talanow, PhD, managing partner of Reverse Radiology and CEO of Radiolopolis.com.
Potentially, there could be substantial savings for buyers of imaging technology, if one recent experiment is any indication. A U.S. government-run competitive bidding pilot program for Medicare beneficiaries to acquire medical equipment reduced costs by 42%, or $202 million, in its first year, according to a 2012 New York Times article.
Talanow is promoting Reverse Radiology by saying the website and reverse auction process can save buyers as much as 15% on purchases, while sellers can reduce their cost of goods sold by 15% to 20% and shorten the selling cycle.
"Traditionally, it can take six to 12 months for the purchasing process to run its course," he said. "We can facilitate [the process] so that we can start the auction within 24 hours when at least three vendors have chosen to participate. So, not only is the price potentially reduced, but also the buying cycle, which would seem to benefit both parties."
Reverse Radiology also has a proprietary bid-matching algorithm designed to further streamline the process by identifying optimal buyer-seller groupings.
Early support
The initial interest in reverse auctions is encouraging. Talanow and colleagues surveyed radiologists two years ago and found that 43% of decision-makers would use an online competitive bidding tool to acquire imaging technology. They presented their results at the 2012 RSNA meeting in Chicago and ECR 2013 in Vienna.
"These were encouraging results, which then motivated us to move forward," Talanow said. "What we found was that the majority of decision-makers said they would like to use such an online purchasing tool. For the most part, it was the big-ticket medical imaging items, such as MRI and CT scanners."
As for financially sustaining the website, Reverse Radiology will charge buyers a commission based on their savings.
"If the buyers don't save, we don't make any commission," he explained. "Similarly, with the vendors, we make a small commission for facilitating the auction only if a vendor sells a product or service using our reverse auction."
Talanow believes that it might take some adjustment of healthcare's traditional thought process of buying and selling, but reverse auctions have been successful in other industries.
"I think if the healthcare industry sees there is high demand from the buyer side, it will recognize that it cannot look away from such new markets," he added.