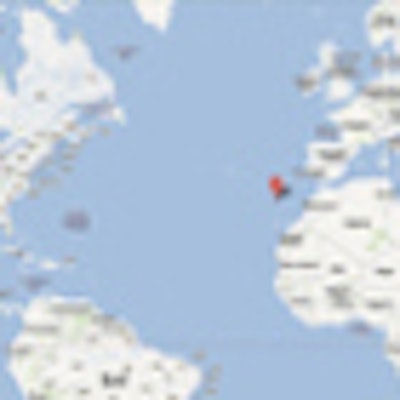 Madeira, a Portuguese island off the coast of Morocco, might seem like an unlikely virtual colonoscopy screening center considering that it lacks a single radiologist trained to interpret VC exams.
But thanks to cooperation from the local university, industry partners, the availability of a cheap DICOM data transfer method, and willing radiologists in both Belgium and Madeira, more than 500 patients were screened there last year in a study that compared the efficacy of virtual colonoscopy (also known as CT colonography or CTC) with the optical exam.
VC did well, and so did the teleradiology scheme. Compared with conventional optical colonoscopy, CTC showed sensitivities in the high 90s, well above those of conventional optical colonoscopy, according to a presentation at the recent RSNA 2011 meeting in Chicago. In addition, CTC had far fewer false positives compared with optical colonoscopy.
"The feeling is that CTC in a teleradiology concept is working, so you can make colorectal cancer screening possible in remote places, and you can help local radiologists with CTC implementation," said Dr. Philippe Lefere from the Virtual Colonoscopy Teaching Centre (VCTC) in Hooglede, Belgium, in an interview with AuntMinnie.com.
The idea of bringing CTC to the Portuguese archipelago originated with the University of Madeira, not the Belgian team, Lefere said. Principal investigator Dr. Celso Silva from the university's Clinica de Santa Catarina "wanted to do a screening study comparing optical and virtual colonoscopy, but they did not have local experience," Lefere said. So they approached Lefere's group for help.
With their study, the researchers aimed to assess the performance of teleradiology-based CTC to screen patients at average risk for colorectal cancer. In 2010 and 2011, 510 Madeira residents between age 50 and 75 (mean 59.7 years) underwent prone and supine low-dose VC screening (1.5-mm slice collimation, 50 mAs, 130 kV default) on a six-detector-row scanner (Emotion, Siemens Healthcare) after cathartic bowel cleansing and automated insufflation of the colon with CO2 (ProtoCO2l, Bracco Diagnostics).
The image transmission process was simple: DICOM data were transferred over the Internet via the low-cost YouSendIt program used by consumers worldwide to share large data files, Lefere said. "All the DICOM datasets were sent to us and downloaded on our workstation, and the nice thing about YouSendIt is that it's HIPAA-compliant," once the datasets are anonymized in preparation for transmission, he said.
The bowel preparation was the same for VC and optical colonoscopy, beginning with a low-fiber diet for three days before the scan. One day before the exam, CTC patients ingested a clear liquid diet consisting of the following
Three energy drinks
Sodium picosulphate 2 x 15.08 g
Barium and iodine for fecal tagging
Madeira-based radiologist and co-investigator Dr. Antonio Rodrigues was trained to prepare and scan the patients, while all interpretation was performed in Belgium by a single experienced radiologist (Lefere) with experience in more than 5,000 CTC cases. "In case I had problems with difficult interpretation, I could rely upon Dr. Stefaan Gryspeerdt," a colleague of Lefere's at the Virtual Colonoscopy Teaching Centre, he said.
For assurance of bowel prep quality, cases were categorized by tagging quality: nontagged stool or inhomogeneous tagging that did not affect interpretation, nontagged stool or inhomogeneous tagging affecting interpretation, or homogeneous tagging. A similar method was used to categorize luminal distention quality. All patients underwent CTC followed by optical colonoscopy performed locally by one of five experienced practitioners. If CTC found polyps not visible at colonoscopy, the colonoscopy was repeated. However, the results were not segmentally unblinded, Lefere said.
In all, nine patients had areas of nontagged stool (1.8%), and three patients had segments with poor distention (0.6%). All files were successfully transmitted. CTC and optical colonoscopy revealed 88 polyps that were 6 mm or larger in 69 patients, the team found.
Based on results from both exams, including repeated colonoscopy exams when necessary, CTC actually beat out optical colonoscopy in two areas: Sensitivity for detecting adenomas 6 mm and larger was 98% sensitivity for CTC versus 90% for optical colonoscopy, and sensitivity for detecting advanced neoplasia was 100% for CTC versus 91% for colonoscopy. The calculation takes into account six missed lesions plus 14 lesions confirmed at repeat CTC -- 14 of the 20 lesions that colonoscopy missed were in the right colon, where colonoscopy has traditionally done a poorer job.
Study limitations included the lack of segmental unblinding, though accuracy was confirmed by repeat exams, Lefere said.
"We could not do segmental unblinding, so [patients] underwent repeat optical colonoscopy in a number of patients and our [CTC] detection was confirmed," he explained. "In four other patients, repeat optical colonoscopy was normal and CT was not repeated," which accounts for the 14 cases that were excluded from the results calculations." Inasmuch as these cases probably represent optical colonoscopy misses, the results likely understate CTC's accuracy, if anything, he added.
The prep and distention performed in Madeira were almost uniformly of high quality. "We monitored the exams as we received them, and in case we detected some decline in quality, we sent an email back requesting improvements in upcoming exams," Lefere said.
CT colonography is an accurate tool for screening colorectal cancer in a population at average risk, the authors concluded. File transmission can be used to ensure interpretation by experienced CTC providers.
The busy Madeira radiologists could eventually be trained in CTC interpretation if they can find the time for it, according to Lefere. Clinical image interpretation is actually not the main purpose of the Virtual Colonoscopy Teaching Centre, he said.
"We are focused on education -- we don't want to take over CTC interpretation," he said. "The focus is to train the radiologists, make CTC more available, and improve implementation, because in many places the radiologists aren't trained -- and that's what we would like to improve," he said.