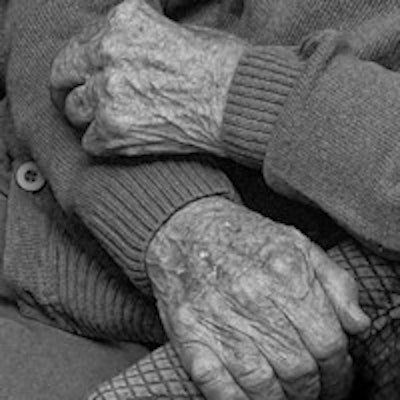 Frailty is everyone's business -- and everyone involved in caring for adults with cancer has a role to play. That's the central message of a practical new 38-page guide that can be downloaded free of charge.
"To succeed in optimising cancer care for older people and those living with frailty we must utilise and upskill the whole multidisciplinary team (MDT), including doctors, nurses and other allied health professionals across a range of specialties, from primary care to oncology, surgery, geriatric medicine and palliative care," noted the U.K. authors of the report, called "Implementing frailty assessment and management in oncology services."
Every step in the pathway of cancer diagnosis and treatment provides a potential opportunity for assessing frailty, they stated, adding that assessment should start early in the pathway and ideally be repeated regularly at key stages.
The authors define frailty as "a medical syndrome with multiple causes and contributors that is characterised by diminished strength, endurance, and reduced physiologic function that increases an individual's vulnerability."
Frailty is common in patients with cancer. Patients with frailty are vulnerable to higher rates of treatment toxicity and surgical complications, and worse quality of life and survival outcomes, but these can and should be improved with targeted assessment, support, and management, they continued.
The guidance provides practical advice and recommendations to help ensure this becomes a routine part of clinical care. Although aimed primarily at oncologists, this guidance is relevant to everyone involved in multidisciplinary teams, according to the authors.
"A number of validated tools are available for assessing frailty, and frailty assessment should be embedded into electronic health records," they wrote. "Patients identified with frailty should be flagged for more comprehensive, multi-domain frailty assessments."
Frailty-informed care involves detecting frailty and considering it alongside shared decision-making, taking account of what really matters to patients and their families, as well as working to recognize and address potentially reversible frailty-related issues such as polypharmacy and problems with nutrition, they pointed out.
Frailty assessment
"Frailty affects half of all older patients with cancer and many younger patients too," noted Dr. Tom Roques, chair of the Joint Collegiate Council for Oncology (JCCO), in a foreword to the document. "It is widely recognised that personalised cancer care is about holistically assessing a patient's needs, not just their cancer biology. The assessment and management of a patient's frailty is an essential component of this."
If frailty is not adequately assessed and managed within cancer pathways, patients may receive inappropriate overtreatment, carrying the risk of an irretrievably impaired quality of life. Conversely, older people who are less frail and more robust risk being denied access to cancer therapy if age alone is used as a measure of their resilience, with unnecessarily adverse cancer outcomes, he explained.
"Frailty assessment is not a routine component of the cancer pathway in the U.K., and patient frailty and wider needs may be overlooked," said Roques, who is vice president for clinical oncology at the Royal College of Radiologists (RCR). "It is increasingly important -- indeed essential -- that frailty in patients with cancer is assessed, considered within shared decision-making and managed to promote better patient and carer experience and outcomes."
This guidance was commissioned by the JCCO (made up of the Royal College of Physicians and the RCR) in association with the British Geriatrics Society, the International Society of Geriatric Oncology, and Macmillan Cancer Support, to raise awareness of the importance of frailty assessment and management in oncology services, and to provide practical guidance to oncology teams to ensure that it becomes a routine part of clinical care.
You can download a free copy of the document from the RCR website.